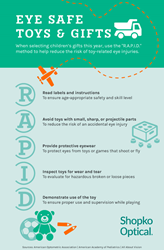 GREEN BAY, Wis. (PRWEB) December 14, 2021
This holiday season Shopko Optical is sharing important information to keep eye safety a priority when selecting children's gifts. Through its guide, Shopko Optical hopes to equip consumers with the knowledge and resources to reduce the risk of toy-related eye injuries.
"Toys cause thousands of eye injuries every year. According to All About Vision, in 2020, nearly 150,000 children under the age of 14 were seen in U.S. emergency departments due to toy-related injuries," said Russ Steinhorst, CEO of Shopko Optical. "We are dedicated to reducing the risk of toy-related eye injuries by educating consumers on what to keep top of mind when selecting toys for children."
Promoting its "R.A.P.I.D." method guide, Shopko Optical provides tips to protect children's eyes when playing with toys and reduce sight-threatening accidents as follows:

R: Read labels and instructions to ensure age-appropriate safety and skill level.
A: Avoid toys with small, sharp, or projectile parts to reduce risk of eye injury.
P: Provide protective eyewear to shield eyes from toys or games that shoot or fly.
I: Inspect toys for wear and tear to evaluate for hazardous broken or loose pieces.
D: Demonstrate use of the toy to ensure proper use and supervision while playing.
"We fully support American Optometric Association's guidelines to avoid the risk of toy-related eye injuries," said Steinhorst. "Toys and games can be both fun and eye friendly."
Common eye injuries from toy-related injuries range from a minor scratch to the front surface of the eye (corneal abrasion) to very serious, sight-threatening injuries such as corneal ulcers, traumatic cataracts, bleeding inside the eye, or retina detachment.
"We hope these guidelines will shine a light on the importance of taking the appropriate caution and care when selecting toys," Steinhorst said. "These few simple steps can reduce the risk of eye injuries and help keep the holidays safe for children."
To learn more about Shopko Optical's work to prevent toy-related eye injuries, visit shopko.com/toysafety. To learn more about toy safety and vision-friendly toys, visit aoa.org.
###
About Shopko Optical
Shopko Optical, the trade name of Shoptikal LLC, is an affiliate of Monarch Alternative Capital LP. For more than 40 years, Shopko Optical has provided excellent patient-centric care and high-quality eyewear through its dedicated team of nearly 700 optometrists (independent doctors of optometry in IA, ID, MT, SD and WA) and opticians. Shopko Optical expects further growth in 2021 and beyond. For more information, visit Shopko.com.
For More Information, Contact:
Tricia Schwartz
Public Relations Strategist, Element
Phone: (920) 702-1237
Email: tricia (at) goelement (dot) com