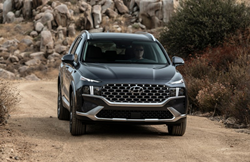 SURPRISE, Ariz. (PRWEB) January 14, 2021
Peoria car owners who are thinking about trading in their current vehicle will be pleased with the trade-in options available at Rodeo Hyundai. The Rodeo Hyundai team offers prospective trade-in customers with a Kelley Blue Book Value for their trade-in, ensuring they receive the best offer for their vehicle.
When shoppers choose to trade their vehicles in at Rodeo Hyundai, they can be confident that the Rodeo Hyundai team will provide them with the best offer available. Individuals can begin the trade-in process online on the Rodeo Hyundai website to get the process started before heading to the dealership.
Once the trade-in process is completed customers can choose from over 150 new Hyundai vehicles on the Rodeo Hyundai lot to drive off in.
Prospective buyers can use their vehicle's trade-in value to put towards the purchase of a new or used vehicle from Rodeo Hyundai. The Peoria dealership already has a full range of 2021 Hyundai models in stock, with fan-favorites such as the Hyundai Elantra, Hyundai Kona, Hyundai Tucson and Hyundai Sonata available.
Anyone can view the entire lineup of new Hyundai vehicles at Rodeo Hyundai by visiting the dealership online, rodeohyundai.com. For answers to personalized inquires, a member of the dealership staff can be reached by phone at 623-214-4100 anytime during normal business hours.
The Peoria-area dealership is located at 12925 N Autoshow Ave, Surprise, AZ 85388 and accepts vehicle trade-ins seven days a week. The Rodeo Hyundai sales department is open from 8 a.m. to 9 p.m. Monday through Friday, 8 a.m. to 8 p.m. on Saturdays and from 10 a.m. to 6 p.m. on Sundays.