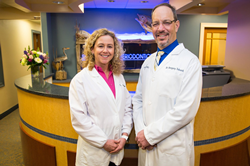 To date, no tooth replacement choice is as stable or effective as properly placed dental implants.
East Lyme, CT (PRWEB) October 17, 2019
Drs. Gregory Toback and Marianne Urbanski of Shoreline Periodontics help patients in East Lyme, CT seeking tooth replacement options evaluate if dental implants are the right solution for them. As highly trained and regarded periodontal and dental implant specialists, Drs. Toback and Urbanski regularly place dental implants at their practice, allowing individuals with missing teeth to avoid the problems associated with long-term tooth loss and enjoy the advantages of a complete smile.
Dental implants restore the function and appearance of the mouth by permanently replacing natural teeth that have been extracted or lost due to disease, trauma or other circumstances. Because the dental implant stimulates healthy and natural jawbone growth, it stops bone from deteriorating and prevents surrounding teeth from shifting. To date, no tooth replacement choice is as stable or effective as properly placed dental implants.
This team offers a 'guide' to determining if dental implants are right for a patient. They suggest that patients ask themselves three questions. The first is discovering what their options really are. Although dental implants are the most long-term, reliable solution to tooth loss, other, more temporary options may be more ideal for some patients' situations. The entire team at Shoreline Periodontics strives to offer both the pros and cons of each procedure so patients are properly informed.
The second question is what they should expect if they move ahead with dental implant placement. This may include talking with their periodontist about what the dental implants will look or feel like. The final question asks what the placement team's expertise is. Patients should only work with an experienced team that can properly assess the most ideal options for each patient.
Patients with missing teeth who would like to explore the possibility of dental implants are welcome to contact Drs. Toback and Urbanski at their New London, CT office by calling 860-443-2428 or at their Westerly, RI office at 401-596-0000.
About the Periodontists
Shoreline Periodontics is a periodontal practice offering personalized dental care for patients since 1998 and is located in New London, CT and Westerly, RI. Leading board-certified periodontist, Dr. Gregory A. Toback, received his B.A. from St. John's University and his Doctorate of Dental Medicine from the University of Connecticut. He also received advanced training in periodontics and dental implants at the University of Texas Health Science Center in San Antonio. Dr. Toback focuses on minimally invasive surgeries, offering LANAP® and belongs to a small group of dental professionals currently providing the Chao Pinhole Surgical Technique™ for treatment of gum recession. Dr. Marianne Urbanski has been voted one of Connecticut's top dentists for more than seven years by Connecticut Magazine. Dr. Urbanski graduated cum laude from the College of Holy Cross in Worcester, Massachusetts where she earned a Bachelors' degree in Biology. She also received her Doctor of Dental Medicine degree and her Masters' of Dental Science degree from the University of Connecticut Dental School. Dr. Urbanski prides herself on offering caring, professional treatment to each patient. To learn more about Shoreline Periodontics and their dental services visit their website at http://www.shorelineperio.com or call 860-443-2428 for the New London, CT location, or 401-596-0000 for the Westerly, RI office.