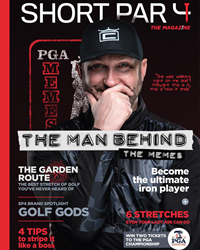 "We are extremely proud of Short Par 4 The Magazine. It is funny, witty, and brings another view point to golf. The copy is clever and the layout is artistic with an attitude," added DiMeo.
SARASOTA, Fla. (PRWEB) March 12, 2020
"Short Par 4, the #1 "Hand Curated Subscription Box" for golfers everywhere, has developed a digital magazine that is entertaining, edgy, and speaks to their members – Short Par 4 The Magazine. A publication that broadcasts their message in a creative and fun way through editorial profiles, interviews, and collaborations with top golfers and influencers.
We wanted to express our love for the game but in a different way to our members. We realized that there was a market for a golf publication that didn't focus on traditional golf stories. The youth want something different. They want to see golf, in the same way they experience it. We feel like Short Par 4 The Magazine expresses this perfectly," said Short Par 4 Founder and CEO, Bobby DiMeo
Short Par 4 was released to their members and social followers on 2/26/20. The first issue features the SP4 Lab, a fun but provoking piece on how drinking can affect your golf game. A profile piece on Travis, AKA PGA Memes. Another story on Golf Gods, an origin story on how two Aussie boys took social media by storm. Each month a special and unfamiliar golf course will be highlighted. In the inaugural issue, the publication featured The Garden Route, Africa's Jewel of Golf.
Certified personal trainer Carolina Romero demonstrates the importance of stretching and how it affects the back. PGA Professionals Andy Proudman and Piers Ward, bring the best content in golf coaching. In this issue, their focus is the ULTIMATE iron play. Short Par 4 Ambassador and Kern Ferry Professional, John Chin, adds his tips to iron play. The issue rounds out with a 2020 state of apparel article that brings the reader into the know.
"We are extremely proud of Short Par 4 The Magazine. It is funny, witty, and brings another view point to golf. The copy is clever and the layout is artistic with an attitude," added DiMeo.
Short Par 4 The Magazine is scheduled to be released six-times a year. An editorial calendar is coming out shortly but already in process is a special edition dedicated to the Ryder Cup and a feature on game changers in the sport.
"Make sure to check out one of my favorite features, 'Hack of the Month.' It is super funny. I hope you enjoy our magazine and much as we do," added DiMeo.
Click here, to enjoy the inaugural issue of Short Par 4 The Magazine.
Themagazine.shortpar4.com
ABOUT SHORT PAR 4:
Short Par 4 is a personal stylist for the golf inspired life that delivers brand name golf apparel, accessories and gear directly to its member's doorstep – each for up to 60% off retail prices.
The vision of the company is to provide golf enthusiasts with the highest quality products at member's only pricing delivered directly to their doorsteps – keeping their style tight and allowing them to spend more time on the course, not in their closet. As the premier styling service for the golf community, Short Par 4 boasts one of the fastest growing memberships of any subscription box on the web.
Every month, Short Par 4 delivers exclusive brand name golf apparel and products that promise to make their member's look handsome both on and off the course. Whether on a date, on the tee box or at the office, Short Par 4's Style Caddies have their members covered!
With a membership for all budget sizes, every box includes top rated and premium golf brands like Under Armour, Nike, Puma and Callaway and burgeoning brands like Travis Mathew, Linksoul, Greyson and more. Each delivery is hand curated according to season and the golfer's unique style profile that they fill out on the website.
Short Par 4 is represented on all the major golf tours. The company has compiled a global brand ambassador team that includes some of golf's most iconic players.
PGA TOUR: John Chin, Tyler Duncan
LPGA TOUR: Lexi Thompson
Korn Ferry TOUR: Kevin Dougherty, Kevin Lucas
PGA TOUR CHAMPIONS: Tom Pernice
Short Par 4 continues to grow every year since its inception in 2014. Their membership and box shipments are the largest in golf industry, making the company the leading golf subscription service. The company is located in Sarasota, Florida.
For more information, please visit https://www.shortpar4.com/.
Keep up-to-date with all of the Short Par 4 news on social media:
Facebook:
https://www.facebook.com/shortpar4
Twitter:
https://twitter.com/Short_Par4
Instagram:
https://www.instagram.com/shortpar4