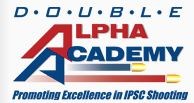 (PRWEB) January 29, 2014
Anyone involved in IPSC, or the International Practical Shooting Confederation, can't have helped noticed the number of new products for the sport that have been slowly finding their way to market. As this activity has grown in popularity over the years, the number of retailers popping up to service the participants has increased like never before. Where there was once a trickle of new items related to this pastime being released over the months, the industry is now experiencing somewhat of a groundswell.
One place where this increase in product release frequency can be seen is at online retailers such as doublealpha.biz. With their close links to the sport, retailers such as this can provide useful feedback to the manufacturers, which then allows them to research and develop products with a better chance of becoming a success. This in turns leads to news items such as this one, which are concerned with announcing new products to an excited group of core-participants who keenly follow the sport.
Amongst the range of new products on offer from Double-Alpha Academy there is an upgrade for the existing line of items from popular bullet feeder brand, Mr Bulletfeeder (http://www.doublealpha.biz/bulletfeeder/mr-bulletfeeder). These products allow practised hands to fill the tube assembly device in around two minutes, which over time, represents a valuable amount of time saved. As using one of these new feeders from DAA allows you to carry out the task at home, owners can spend more time shooting and less time reloading. When speaking to launch spokesman for DAA, the appeal and success of these product was thus explained: "By introducing a cost effective way of simplifying and speeding up the ammo reloading process, shooters can then spend more time doing what they love the most, rather than wasting time carrying out repetitive tasks while at the shooting range".
At the new product launch event, improved bullet feeders weren't the only products on show. Other items that drew attention from the crowds and assembled press pack included the shot timer (http://www.doublealpha.biz/timers.htm) and a new version of the popular pistol range bag from DAA. A number of improvements had been made to the Range Pack that the presenters that day were keen to point out. Amongst the product line-up were a number of other range bags (http://www.doublealpha.biz/range-bags/range-bags/ced-professional-range-bag) that were aimed at casual users and catered to those with smaller amounts of kit, showing that the type of audience is changing from the serious shooter to more part-time participants.
With the increased exposure and visibility of this sport, it isn't surprising that more product vendors are entering the marketplace, while established players expand their ranges. As more people flock to the sport, there are increased opportunities to sell them accessories and equipment. This tradeshow was an interesting illustration of that fact and perhaps the start of a new trend that is expect to go on long into 2014 and beyond.