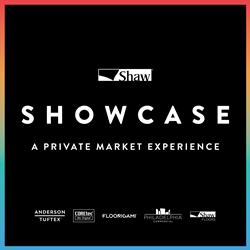 In creating this new concept, we leaned into input from our retail partners and can't wait to arm them with our latest products, programs and strategic solutions to help their businesses grow.- Carrie Edwards Isaac, Vice President, Marketing and Brand Strategy, Shaw Residential
DALTON, Ga. (PRWEB) October 26, 2020
Shaw Industries Group, Inc. (Shaw) is excited to announce its SHOWCASE 2021 experience, a series of tailored events for this year's residential market season. With well-being and personal safety at the forefront of today's environment, Shaw's SHOWCASE 2021 markets are leading that charge - and the flooring industry - with a fresh, innovative approach to the important tradition of market season. All SHOWCASE 2021 events will be private, personalized and by appointment only, offering retailers a customized market experience. The company will showcase all-new products from its Residential and Main Street brands and event timelines (December 2020 - February 2021) have been redefined in order to reach as many customers as possible.
"We recognize things in the world have drastically changed this year but our customers' businesses haven't stopped," says Carrie Edwards Isaac, vice president of marketing and brand strategy for Shaw Residential. "Consumers are more focused on their homes and personal spaces. In many cases, our retail partners are busier than ever, serving consumers in new and exciting ways. Our SHOWCASE 2021 events will give a stage to Shaw's beautiful and innovative new product introductions -- designed to meet consumer demands and address things like sound and defining work/study spaces, as we all engage with our homes in different ways. In creating this new concept, we leaned into input from our retail partners and can't wait to arm them with our latest products, programs and strategic solutions to help their businesses grow."
Customers attending SHOWCASE 2021 events can look forward to new, industry-leading products, services and innovations from Shaw's Residential and Main Street brands, including:

"Save the date" reminders will be sent out in the coming weeks and both attendee registration and appointment setting will occur through ShawNow. Shaw Flooring Network members are welcome to participate in both SHOWCASE 2021 markets and the SFN Virtual Convention Series. Shaw will provide masks and sanitation stations for all events to ensure a safe market experience.
For more information on SHOWCASE 2021 and how to register for a private market experience, please contact your local Shaw sales representative.
About Shaw Industries
Shaw Industries Group, Inc. is more than a flooring company – we are more than 20,000 people united in our vision of creating a better future for our customers, for our people, for our community and for our company. We provide carpet, resilient, hardwood, tile & stone, laminate, synthetic turf and other specialty items for residential and commercial markets worldwide. We meet diverse customer needs through an expansive portfolio of brands, including: Anderson Tuftex, COREtec, Patcraft, Philadelphia Commercial, Shaw Contract, Shaw Floors, Shaw Sports Turf, Southwest Greens, USFloors and more.
Headquartered in Dalton, Georgia, Shaw is a wholly owned subsidiary of Berkshire Hathaway with more than $6 billion in annual revenue and representation throughout the U.S., as well as in Australia, Belgium, Brazil, Canada, Chile, China, France, India, Mexico, Singapore, United Arab Emirates, and the United Kingdom. For more information about our company brands, operations and community involvement, or to join our industry-leading team, visit http://www.shawinc.com.