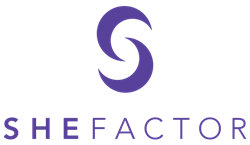 I'm excited to be a part of SheCares Wellness Summit because change starts here with each of us. In order to do better we have to feel better - in body, in mind and in spirit.
DENVER (PRWEB) October 08, 2020
On October 29, 2020 SheFactor will host an incredible one-day virtual event, targeted at Women in the Workforce (ages 24+) to provide mental health, self-care, and overall wellness support during these challenging times. The goal of this SheFactor Wellness Summit is to bring thousands of attendees together, giving them the ultimate toolkit to self-care with guidance and tips from the country's most successful women on how they do it all. As part of the summit, SheFactor will be launching the SheCares Foundation and donating 50% of all proceeds from the event back to its new non-profit organization to support women in need.
The SheCares Wellness Summit will host incredible special guests like Peloton instructor and founder of S.P.E.A.K. Tunde Oyeneyin, sought-after speaker and author Brit Barron, and founder of Asutra Stephanie Morimoto with a guest appearance from tennis star Venus Williams. This joy-filled day will feature conversations with change-makers like Kendra Scott's Head of Philanthropy, lively panel discussions regarding anti-racism and diversity, as well as fun, practical workshops like PicMonkey's vision boarding workshop and Pepperose Design's workshop, Cultivating Joy & Healing Through Floral Design.
"I believe that we are all here at this exact moment in time to be the creators of great change," said Oyeneyin. "When the new world is formed they will ask if we watched as it was being created, or if we had a hand in its creation. I'm excited to be a part of SheCares Wellness Summit because change starts here with each of us. In order to do better, we have to feel better - in body, in mind, and in spirit. Today we fill up our cups to better pour into those of others."
Each attendee will have access to the content of the event for six months after October 29th, allowing them the freedom to take it at their own pace and enjoy all 30+ workshops. They will also receive a virtual goodie bag with tools, worksheets, and special offers to complement the sessions, and an opportunity to win a beautiful giveaway box with gifts from speakers and sponsors based on their participation.
"I think self-care and wellness are always important but the times we find ourselves in now make it even more important," said Barron, who recently spoke at Rachel Hollis' Rise Live Conference alongside Jay Shetty, Trent Shelton, and other notable speakers. "I can't wait to talk about self-care, being free, finding joy, finding hope, and living through all the things we're experiencing right now."
Why is the SheCares Wellness Summit so important right now? One-third of American women are currently reporting symptoms of anxiety or depression. 56% of American women are struggling with sleep or eating problems, potential alcohol abuse, or worsened chronic conditions since the virus's outbreak. The national suicide hotline has had a 338% increase in call volume.
Participants will walk away with a toolkit to use every day to build a healthy, balanced lifestyle while building strong bonds and new friendships with other women facing similar struggles. The summit will help women take control of their mental health, reduce stress, find balance in their daily life, and to feel empowered to achieve their goals while performing their best at work.
"Most working women sacrifice their mental health and wellness for the sake of their job, career, or family," said Tori Ganahl, co-founder of SheFactor. "The SheCares Wellness Summit focuses on self-care, mental health, wellness, and allows the attendee to invest in herself. Investing in the confident, strong woman we know she is."
Tickets for the SheCares Wellness Summit are $35. Those interested may also inquire about corporate discounts and pricing. To register, please visit: https://www.eventbrite.com/e/shecares-wellness-summit-by-shefactor-tickets-122472485501
Confirmed SheCares Wellness Summit Speakers

Tunde Oyeneyin- SPEAK Method - Surrender, Power, Empathy, Authenticity, Knowledge
Brit Barron-Becoming Who You Are Meant to Be - Keynote 20 minutes + Podcast with Tori to promote event
Pic Monkey-Vision Boarding Workshop
Kendra Scott-Head of Philanthropy - Sheena Wilde; Giving Back Workshop
Fairy Godboss- How To Be Promotable In Everything You Do
Jaclyn Digregorio- Mastering Your Mindset, Getting Out of Your Comfort Zone, Handling Failure Like a Champ
Pixi Beauty-Masterclass: Beauty For Self-Care
BattleMom (Rachel)- Self-Defense Workshop & Interview
Amanda LaPlante- Get Real to Heal; Integrative Medicine Coach
Karen Laos- Courageous Conversations, Overcoming Self-Doubt, 7 Ways Women Give Away Power
Cheryl Sutherland-Journal Your Way to Clarity
Karen Fullerton-Discover the True Power of Inspiration
Jen Whitmer-Conflict Resolution
305 Fitness-Fitness Class
Mother Honestly (Blessing)-Align Your Goals in Motherhood to Lead a Healthy Lifestyle
Natalie Levy (Natalie Knows)-Call In Abundance in All Areas of Your Life
The Nutrition Tea (Shana)-Eat Anything – Life is Already Complicated
Daily Haloha (Amy Giddon)-Sharing Human Moments with Haloha
Sara Christine-Personal Journey Mapping or Say Hello to Serious Change
Carrie Creed-Positively Powerful
Alexa Fischer (Wishbeads)-Radiate Confidence
Cierra Kaler-Jones- Unlocking Your Story / Social Justice Educator
Joyce Shulman- Women, Walking, and Loneliness
Glenda Russell (The Status Foe)-Stop Waiting- Create the Life You Love
Melissa (Pepperrose Design)-Healing Through Floral Design
Jaylyn Jones- Liberation Through Love
Rocio (Luz) from Life of Leisure- Getting Your Time Back
Nicole Annette (Journal Junky)- The Power of Writing With Intention
Jenna Reiss- Corporate Breathwork Instructor
Kelli Chu- Living after Surviving
Samantha Capaldi- Wine Tasting
Kelley Green- Perfectly Imperfect: Affirmations/Mindset Coach
About The SheFactor
SheFactor is a lifestyle brand who provides an on and offline platform for twenty-something women craving community, growth, and purpose. Visit http://theshefactor.com/ for all things She!
Follow The SheFactor
● https://www.instagram.com/theshefactor/
● https://www.linkedin.com/company/shefactor/
● https://www.facebook.com/TheSheFactor
Contact
Dacia Henshaw at dacia.henshaw@theshefactor.com or 303-915-7391