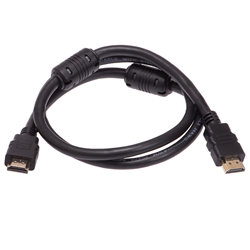 "These cables are commercial-grade & designed for difficult environments & commercial installations. We offer a wide selection of options for our customers to customize...or they can choose from our large inventory of in-stock cables with same-day shipping," said Mark Blackwood, Prod Line Mgr
IRVINE, Calif. (PRWEB) March 03, 2020
ShowMeCables, an Infinite Electronics brand and a leading supplier of connectivity solutions, has introduced a new series of commercial-grade HDMI cables ideal for video transfer, commercial electronics, audio/video installers, video system design and gaming venues.
ShowMeCables' new commercial-grade HDMI cables are offered in 8 different configurations that meet HDMI 2.0 standards, provide 18 Gbps bandwidth and 4K performance at 60Hz. They have CL3 rated jackets for in-wall installations and contain ferrite cores at each end for high frequency noise reduction in the signal. These cables are ideal for transferring video and audio signals in environments that might be susceptible to high frequency noise.
"These cables are commercial-grade and specifically designed for difficult environments and commercial installations. We offer a wide selection of options for our customers to customize their order, or they can chose from our large inventory of in-stock cables available with same-day shipping," said Mark Blackwood, Product Line Manager.
For detailed information on these products, please visit https://www.showmecables.com/commercial-grade-high-speed-hdmi-cable-with-ethernet-and-ferrite-cores-4k-60hz.
For inquiries, ShowMeCables can be contacted at +1-888-519-9505.
About ShowMeCables:
ShowMeCables is a leading eCommerce brand that specializes in providing a large portfolio of in-stock IT, voice, video, and data network cables and connectivity products. ShowMeCables is the chosen supplier for network and IT infrastructure cable assemblies used by professional installers and consumers alike. Backed by a highly knowledgeable support staff of industry experts, the company offers its full inventory of in-stock products while also providing best-in-class customer and technical support. ShowMeCables is an Infinite Electronics company.
About Infinite Electronics:
Infinite Electronics is a leading global supplier of electronic components serving the urgent needs of engineers through a family of highly recognized and trusted brands. Our portfolio brands are specialists within their respective product set, offering broad inventories of engineering-grade product, paired with expert technical support and same-day shipping. Over 100,000 customers across a diverse set of markets rely upon Infinite Electronics to stock and reliably ship urgently needed products every day.