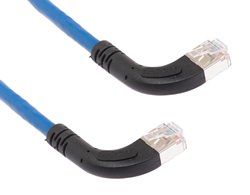 "These L-com-brand cables are a welcomed addition to our product lineup. They feature a patented design, true Cat5e performance and twisted pairs that maintain their twist throughout the angled body of the connector," explained Dustin Guttadauro, Product Line Manager
IRVINE, Calif. (PRWEB) April 23, 2020
ShowMeCables, an Infinite Electronics brand and a leading supplier of connectivity solutions, is now offering L-com's Category 5e angled Ethernet cables that are ideal for installations in tight spaces.
This line of L-com-brand Cat5e angled Ethernet cables includes more than 1,100 SKUs of shielded and unshielded Ethernet cable assemblies with a 90-degree bend. These cables are available with up, down, right, and left, right-angle connector orientations. These angled cables allow for better airflow in confined spaces such as server rooms or offices and the angled design of these cables puts less stress the cable because they can be angled in whichever direction is needed instead of forcing the cable to bend past its bend radius limit.
"These L-com-brand cables are a welcomed addition to our product lineup. They feature a patented design, true Cat5e performance and twisted pairs that maintain their twist throughout the angled body of the connector," explained Dustin Guttadauro, Product Line Manager.
The shielded cables in this line are constructed with 26AWG stranded wire and the unshielded versions feature 24AWG stranded wire. These cables are available in blue, black, gray and red.
These L-com-brand Cat5e angled Ethernet cable assemblies are in stock and available for same-day shipping through ShowMeCables.
For inquiries, ShowMeCables can be contacted at +1-888-519-9505.
About ShowMeCables:
ShowMeCables is a leading eCommerce brand that specializes in providing a large portfolio of in-stock IT, voice, video, and data network cables and connectivity products. ShowMeCables is the chosen supplier for network and IT infrastructure cable assemblies used by professional installers and consumers alike. Backed by a highly knowledgeable support staff of industry experts, the company offers its full inventory of in-stock products while also providing best-in-class customer and technical support. ShowMeCables is an Infinite Electronics company.
About Infinite Electronics:
Based in Irvine, Calif., Infinite Electronics offers a broad range of components, assemblies and wired/wireless connectivity solutions, serving the aerospace/defense, industrial, government, consumer electronics, instrumentation, medical and telecommunications markets. Infinite's brands include Pasternack, Fairview Microwave, L-com, MilesTek, Aiconics, KP Performance Antennas, PolyPhaser, Transtector, RadioWaves, ShowMeCables, INC-Installs and Integra Optics. Infinite Electronics serves a global engineering customer base with deep technical expertise and support, with one of the broadest inventories of products available for immediate shipment.