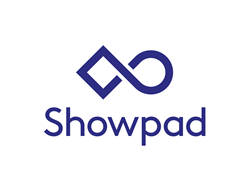 CHICAGO (PRWEB) February 04, 2020
Global sales enablement leader Showpad today announces the appointment of three sales leaders who together will be responsible for driving the company's continued global growth in 2020.
Dustin Deno joins the Showpad team as VP North American Sales and Hendrik Isebaert and Jim Preston have been promoted to SVP of Worldwide Revenue and VP EMEA Sales, respectively.
In their roles, Deno, Isebaert and Preston will bring Showpad's complete and flexible sales enablement solution to more marketers and sellers around the world. This announcement comes on the heels of an exciting 2019, with a $70M Series D funding round, new additions to Showpad's leadership team with the appointments of Matt Miller and Helen Yu and an expansion of the company's Partner Program.
"We are thrilled to welcome Dustin into the Showpad family, and to elevate Jim and Hendrik as leaders in our sales organization," said Pieterjan Bouten, co-founder and CEO at Showpad. "Each of them have a proven track record of success and driving growth in scaling organizations. But even more importantly, they embody our values and demonstrate the vision, leadership and energy to continue our momentum for years to come."
Dustin Deno, VP of North American Sales
Dustin Deno brings more than 15 years of experience in sales leadership roles for high-growth SaaS companies. He joins the team after serving as SVP of Sales at customer engagement platform Maropost, and previously spent more than six years at Salesforce, where he held multiple roles in the retail and consumer products division.
"The opportunity to contribute to Showpad's rapid expansion and see what the evolving sales enablement landscape has to offer was extremely intriguing to me," said Deno. "I'm excited to join the Chicago team and put my knowledge of the evolving SaaS landscape to work in helping drive Showpad's North American growth in 2020 and beyond."
Jim Preston, VP of EMEA Sales
Jim Preston will now serve as the VP of EMEA Sales, overseeing Showpad's expansion in Europe. Preston initially came to Showpad in late 2018 to spearhead sales growth in the UK, Ireland and Nordics. Before Showpad, he spent a number of years at Salesforce, where he first built the Marketing Cloud business across EMEA for the SMB market and then did the same for the Marketing Cloud Enterprise Corporate business.
"Showpad has experienced immense growth in the year that I've been here - and it's been incredible to be a part of," said Preston. "I'm honored and excited to take on this new role and continue bringing the power of sales enablement to marketing and sales teams across EMEA. I'm more optimistic than ever about the opportunity we have in front of us and our ability to execute and become the sales enablement solution for companies around the world."
Hendrik Isebaert, SVP of Worldwide Revenue
Hendrik Isebaert has been promoted to SVP of Worldwide Revenue. In his role, Isebaert will oversee the organization's global sales, partnership and enablement operations. He is uniquely poised to lead Showpad's sales organization into the future, having previously served as both the Senior VP of Sales and most recently, Managing Director for EMEA during his time at the company. Before joining the Showpad team, Isebaert came from Procter & Gamble, where he served as the Go-to-Market Strategy Manager in Brussels, Belgium. He holds an MBA from Harvard Business School.
"It's been an honor to watch this company evolve throughout my career," says Isebaert. "PJ and I have worked very closely together since I started at Showpad four years ago, and it's apparent that each day, we're getting closer to achieving our mission of making B2B commerce more personal and making a better buyer experience the ultimate differentiator for every business. I look forward to helping drive Showpad's continued growth and bring the value of sales enablement to more companies around the world."
For more information about Showpad's leadership team, please visit https://www.showpad.com.
About Showpad
At Showpad, we believe that the buyer experience is the ultimate differentiator. And this is why we built the most complete and flexible sales enablement platform that marketing and sales rely on to prepare sellers, engage buyers, and optimize performance with insights. With a single user experience, our solution makes it easy to discover and share the right content, deliver training and coaching, and maximize seller productivity.
Showpad drives rapid deployment and adoption with best-in-class technology and practices based on the success of 1,200+ customers in over 50 countries.
Johnson & Johnson, GE Healthcare, Bridgestone, Honeywell, and Merck, among others, rely on Showpad's sales enablement platform in every step of the buyer journey.
Founded in 2011, today Showpad is a team of 450+ people working from the company's headquarters in Ghent and Chicago and regional offices in Brussels, London, Munich, Portland, San Francisco, and Wroclaw. Showpad has experienced explosive growth in recent years and has now raised a total of $185 million in funding. In 2019, Showpad was included on the Best Workplaces list by Inc. Magazine. To learn more about Showpad, visit http://www.showpad.com or follow Showpad on Twitter and Linkedin.