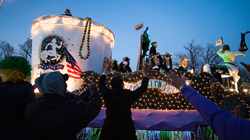 "We understand the economic and branding impact that this conference will have on our community," said Brandy Evans, vice president of communications. "We believe that the media will love our community's rich heritage, amazing food, and fascinating culture, and we can't wait to showcase it."
SHREVEPORT-BOSSIER, La. (PRWEB) May 27, 2021
The Shreveport-Bossier Convention and Tourist Bureau bid on the 2022 Society of American Travel Writers (SATW) Central States Chapter Conference – and won.
About 40 travel media and other travel professionals are expected to attend the conference, Feb. 23-27, 2022 at Sam's Town Casino and Hotel. Conference attendees will go on city tours and visit local attractions, restaurants, shopping districts and more. They will cap-off the conference with a Mardi Gras closing party during the Krewe of Gemini Mardi Gras Parade, Feb. 26.
"We've been interested in having our conference in Shreveport-Bossier for some time, since well before the pandemic," said Chez Chesak, board member for SATW and chair of their Central States Chapter. "It's a region rich in history and culture that offers a plethora of story ideas for our members, but even more so during Mardi Gras!"
SATW Central States Chapter represents members residing in Alabama, Arkansas, Illinois, Indiana, Iowa, Kansas, Kentucky, Louisiana, Michigan, Minnesota, Mississippi, Missouri, Nebraska, North Dakota, Ohio, Oklahoma, South Dakota, Tennessee, Texas, and Wisconsin.
The sales department and communications department worked jointly on the bid to secure this conference.
"We have been a part of SATW for years," said Brandy Evans, vice president of communications. "We understand the economic impact that this conference will have on the meetings market, but the greatest value is the positive media exposure in those central states. We know that the media will love our community's rich heritage, amazing food, and fascinating culture, and we can't wait to showcase it."
The conference schedule includes a photographer shoot-around, professional development classes, and city tours. There will be pre- and post-tours to nearby destinations.
"The meetings market is coming back," said David Bradley, vice president of sales. "We are going to roll out the red carpet for this group and provide them with the highest level of service and hospitality that we are known for in the meetings world."
For more information about Shreveport-Bossier, visit http://www.Shreveport-Bossier.org. For a complete list of events, visit http://www.SBFunGuide.com.
For more information on SATW, visit http://www.satw.org. For more information on their Central States Chapter, visit http://www.satw.org/central-states-chapter/.