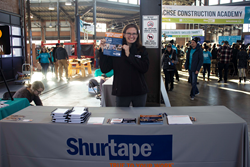 Hickory, N.C (PRWEB) December 04, 2018
The headlines don't lie – the skilled trades are facing a crisis, and it's going to take the combined efforts of the industry's businesses, educators, and manufacturers to bridge the gap. That's why Shurtape Technologies, a leading manufacturer and marketer of pressure-sensitive tapes, sponsored the Sachse Construction Academy event in Detroit – a one-day event that provides local high schoolers with a hands-on introduction to various skilled trades and the numerous and lucrative career opportunities in these industries – and offered attending students the chance to win a $2,500 scholarship to put toward the cost of a trade education.
Established in 2016 by Sachse Construction, a Detroit-based commercial construction management firm recognized as one of the most trusted and respected construction partners in North America, the Sachse Construction Academy provides a hands-on opportunity for high school students to learn about careers in skilled trades from professionals in the industry and encourage them to consider entering those rewarding fields after high school. For the third consecutive year, 500 students attended and participated in construction modules, including plumbing, masonry, restoration services and more.
As a sponsor of the Sachse Construction Academy, Shurtape attended with an interactive module to teach students about the use of tape as a tool in building and construction trades. At the start of the event, Lisa Zierfuss, Product Manager for Building & Construction/HVAC tapes at Shurtape, announced that the company would also be giving away a $2,500 scholarship – named the Tape University Education Scholarship after Shurtape's education-focused TapeUniversity.com website – to a senior student in attendance who plans to pursue a technical education in a skilled trade after high school. Applicants were asked to describe why they want to pursue a skilled trade and how they can make an impact on the skilled trades gap.
After much anticipation, Shurtape is excited to announce the selected winner of the Tape University Education Scholarship: Mikayla Specci.
Mikayla is a high school senior at Oakland Schools Technical Campus in Detroit and plans to pursue a trade education through the Oakland Community College Construction Management program or by attending a trade school with a focus in construction. She has a heritage in the trades, with a grandfather who works for an electrical company, great-grandfather who worked as a residential building and great-grandmother who worked in automotive manufacturing for 35 years. Mikayla has grown up surrounded by family and friends who take pride in their careers in the trades and wants to use her stories and experiences – as well as her love for what she does in her own career – to inspire others to consider entering into the skilled trades.
"It was exciting to see so many young students choosing to pursue careers in the skilled trades. We received scholarship applications from students interested in everything from construction and electrical to HVAC and welding – all skills that they had the chance to experience hands-on at the Sachse Construction Academy," said Lisa Zierfuss, Product Manager for Building & Construction/HVAC tapes at Shurtape. "Mikayla impressed us with her passion for spreading a positive message about careers in skilled trades and her desire to be a part of her family's legacy of careers in these fields. She has a bright future ahead, and we are thrilled to offer her the first-ever Tape University Education Scholarship!"
Learn more about Shurtape's education programs – including its Mission: HVAC scholarship program for HVAC students and schools – at TapeUniversity.com. For more information on the Sachse Construction Academy, visit constructionacademy.sachse.net. To learn more about Shurtape brand, visit Shurtape.com,
SHURTAPE® BRAND
Shurtape® brand, marketed by Shurtape Technologies' Industrial Group, proudly serves a variety of professional and industrial markets with a comprehensive product portfolio that includes masking and paper, foil and film, packaging, double-coated, cloth and duct, and other specialty tape products, in addition to packaging dispensers and equipment for automated and manual packaging applications. For more information, visit shurtape.com, find us on Facebook® (facebook.com/Shurtape), follow us on Twitter® (@shurtapetech) or watch our videos on YouTube® (youtube.com/ShurtapeTech).
SHURTAPE TECHNOLOGIES, LLC
Based in Hickory, N.C., Shurtape Technologies, LLC, is an industry-leading manufacturer and marketer of adhesive tape and consumer home and office products, with facilities in the United States, Canada, United Kingdom, Germany, Mexico, Peru, United Arab Emirates and China. Together, our subsidiaries serve numerous markets, including DIY, home products, industrial/MRO, building and construction, electrical, packaging, HVAC/insulation, professional paint, automotive, marine, aerospace, arts and entertainment, graphic arts, sound control, medical and retail. Learn more at ShurtapeTech.com.
Facebook® is a registered trademark of Facebook, Inc.
Twitter® is a registered trademark of Twitter, Inc.
YouTube® is a registered trademark of Google Inc.