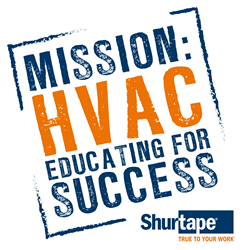 HICKORY, N.C. (PRWEB) November 02, 2018
It's evident everywhere – in the headlines, in schools, and especially in businesses: The skilled trades gap is taking a toll on HVAC and other industries. By 2020, an estimated 31 million* skilled trades positions will be left vacant by retiring Baby Boomers and not enough new trade-educated technicians with the skills needed to take their place. With this major shortage looming in the near future, it's critical for businesses and educators to take action and promote the rewarding career opportunities available in HVAC.
The costs of receiving an education can be high, making it challenging for employers to find trade-educated replacements for retirees. That's why Shurtape Technologies, LLC, a leading manufacturer and marketer of pressure-sensitive tapes, introduced Mission: HVAC, Educating for Success, a scholarship program that is designed to help support the next generation of HVAC students. Now, the company is searching for HVAC students – in addition to trade school programs – to participate in the program's fifth year.
Over the course of 10 months, up to three students – selected via an application process open to students from technical schools nationwide – will be given 10 HVAC-themed missions that will require them to do research, conduct interviews with HVAC pros and educators, and analyze their own experiences studying and practicing HVAC skills. Each student will compile their findings into blog posts that will be shared on Shurtape's education-focused website, TapeUniversity.com. By participating in the program and completing all 10 missions, each student will be awarded with $5,000 to put toward the cost of their education and position them for future employment.
This year, for the first time ever, Shurtape is also expanding Mission: HVAC to trade schools, offering the chance for HVAC educators to apply on behalf of their HVAC program to receive $5,000 to put toward either the tools, technology, or training their school needs to equip students to be successful. Whether there is a need for fully stocked toolboxes, technology to modernize the classroom, or additional scholarships and training opportunities, two trade schools or technical programs will be selected to receive their own $5,000 "scholarship." Representatives from the selected schools will be asked to complete up to three of their own missions, providing commentary from an educator's perspective on the state of the HVAC industry.
"For five generations, Shurtape has been on a mission to provide solutions to the industry's unmet needs," said Lisa Zierfuss, product manager for HVAC/Building & Construction tapes at Shurtape. "Today, we're on a mission to close the skilled trades gap by equipping the next generation of skilled professionals with the tool of a technical education. Five years ago, we saw the growing struggle in the industry to find skilled technicians to meet industry demands and created Mission: HVAC as a way to help combat the shortage. This year, we are thrilled to expand the program beyond students to the educators and trade schools that provide their training. By equipping these schools with the tools, technology, or training they need to be successful, we are investing in the future of the HVAC industry."
HVAC students interested in applying for the 2019 Mission: HVAC program can submit their application online at Shurtape.com/MissionHVAC. Instructors can apply on behalf of their trade school at Shurtape.com/MissionHVAC/TradeSchool. The application period for both programs is open from November 1, 2018, through February 9, 2019.
Stay tuned to meet the selected students and schools, and follow their journeys at TapeUniversity.com. To learn about Shurtape's HVAC solutions, including our comprehensive line of foil, film and composite tapes, visit Shurtape.com.
SHURTAPE® BRAND
Shurtape® brand, marketed by Shurtape Technologies' Industrial Group, proudly serves a variety of professional and industrial markets with a comprehensive product portfolio that includes masking and paper, foil and film, packaging, double-coated, cloth and duct, and other specialty tape products, in addition to packaging dispensers and equipment for automated and manual packaging applications. For more information, visit shurtape.com, find us on Facebook® (facebook.com/Shurtape), follow us on Twitter® (@shurtapetech) or watch our videos on YouTube® (youtube.com/ShurtapeTech).
SHURTAPE TECHNOLOGIES, LLC
Based in Hickory, N.C., Shurtape Technologies, LLC, is an industry-leading manufacturer and marketer of adhesive tape and consumer home and office products, with facilities in the United States, Canada, United Kingdom, Germany, Mexico, Peru, United Arab Emirates and China. Together, our subsidiaries serve numerous markets, including DIY, home products, industrial/MRO, building and construction, electrical, packaging, HVAC/insulation, professional paint, automotive, marine, aerospace, arts and entertainment, graphic arts, sound control, medical and retail. Learn more at ShurtapeTech.com.
Facebook® is a registered trademark of Facebook, Inc.
Twitter® is a registered trademark of Twitter, Inc.
YouTube® is a registered trademark of Google Inc
*Source:https://www.adeccousa.com/employers/resources/skilled-trades-in-demand/