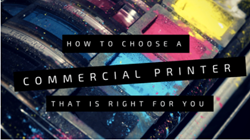 One of the most notable collaborations custom publishers have is the one with their commercial printer, but choosing the right printer can often be overwhelming and difficult.
Austin, TX (PRWEB) May 04, 2017
As a custom publisher, one has a significant role in a company's marketing and final product. However, to complete the project, it's essential to collaborate with other services. One of the most notable collaborations is that one has with the commercial printer, but choosing the right one can often be overwhelming and difficult.
Moving from concept to final product with a publisher and commercial printer and hiring a printer for the job is quite simple and follows a strategic timeline:

Identifying the needs of the project.
Locating a commercial printer that fits those needs.
Requesting a quote for services and ensuring the quoted amount matches the project's budget.
Requesting a turn-around time estimate.
To that note, Shweiki Media Printing Company is excited to present a new, handy guide for publishers to help them find their perfect commercial printer.
The guide features the five elements of a commercial printer for a custom publisher -- in other words, a few things to look for:
1. Experience in publications
2. In-house printing
3. Realistic turnaround time
4. Availability of in-house designers
5. The option of in-house mailing
Not all commercial printers specialize in the same areas. Some may have to outsource to another party for certain services. To select a company that delivers a quality product, one can narrow down the choices by looking at those essential factors.
Once one has found a commercial printer that suits their needs, they may find that establishing a relationship with them for future projects makes the process of concept-to-print much easier. Not only can one be certain of the quality of that printer, but the printer, in turn, knows the publisher's expectations, printing and finishing needs and, most importantly, the required turnaround.
The full piece, featuring details and insights for each element, is available on Shweiki.com. Click here to check it out!
Shweiki Media's mission has always been to help publishers improve by providing the most profitable, hassle-free printing experience possible. This includes guaranteeing the highest quality product, exceptional customer service, world-class communication, an on-time guarantee, and no surprises– whether printing magazines, postcards, flyers or anything else.
About Shweiki Media:
As a printer and publisher, Shweiki Media also believes that this hassle-free experience includes making their clients better. Utilizing relationships with industry experts, Shweiki Media strives to educate clients and help them thrive in the exciting world of publishing–while having lots of fun along the way!
For more great info from and about Shweiki Media, please check out our blog at shweiki.com/blog (and sign up for our free weekly expert webinars!), and subscribe to our Youtube Channel at youtube.com/shweikimedia. You can also follow us @ShweikiMedia and "like" us at Facebook.com/shweikimedia