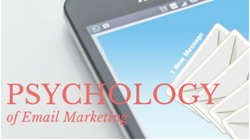 All marketing is psychological in some form. After all, that is what makes readers interested in what a business has to offer.
Austin, TX (PRWEB) April 06, 2017
All marketing is psychological in some form. After all, that is what makes readers interested in what a business has to offer.
That's why Shweiki Media Printing Company is excited to announce that they've teamed up with marketing expert Nancy Harhut of the Wilde Agency to explore the psychology behind one of the most popular forms of marketing: email.
The Power of Email Marketing
Email marketing has become the workhouse for a marketer and the primary channel for marketers to rely on. In fact, in a recent Mailigen survey, it was found that 89 percent of marketers use email as their primary lead generation tool.
For most companies, email marketing offers the highest return on the investment. However, to get the most action from an email marketing campaign, marketers need to look at the psychology behind the strategy and understand their target reader to drive conversions.
One thing to note is that there is plenty of competition in email marketing; therefore, a person does not have much time to spend with their email message. A person gets three or four seconds before deciding if they will open a company's email or delete it. The decision, however, is subconscious, meaning that companies in industries ranging from magazine publishing to pharmaceuticals could simply apply the right psychology to convince readers (and potential customers) to open and read their emails.
In the webinar, Harhut discusses seven essentials to consider when applying psychology to email marketing:
1. Knowing and considering human behavior triggers
2. Using short subject lines
3. Combining headline and subject lines
4. Using the right (persuasive) language
5. Personalizing text
6. Filling in the gaps
7. Making it feel exclusive
For the full explanation and the psychology behind these essential strategies, watch the webinar, available on Shweiki's YouTube page and, with an accompanying blog, at Shweiki.com. Click here to watch the webinar now!
About Shweiki Media:
Shweiki Media's mission has always been to help publishers improve by providing the most profitable, hassle-free printing experience possible. This includes guaranteeing the highest quality product, exceptional customer service, world-class communication, an on-time guarantee, and no surprises– whether printing magazines, postcards, flyers or anything else.
As a printer and publisher, Shweiki Media also believes that this hassle-free experience includes making their clients better. Utilizing relationships with industry experts, Shweiki Media strives to educate clients and help them thrive in the exciting world of publishing–while having lots of fun along the way!
For more great info from and about Shweiki Media, please check out our blog at shweiki.com/blog (and sign up for our free weekly expert webinars) and subscribe to our Youtube Channel at youtube.com/shweikimedia. You can also follow us @ShweikiMedia and "like" us at Facebook.com/shweikimedia
About Nancy Harhut:
Getting people to take action is what Nancy's all about. Her specialty is blending best-of-breed creative with decision science to prompt response. A frequent speaker at industry conferences, Nancy's shared her passion with audiences from Moscow (as the only American on the speaker's roster) to the U.S. Department of Defense (twice). Along the way, she's been named NEDMA Direct Marketer of the Year, Ad Club Top 100 Creative Influencer, OMI Top 40 Digital Marketing Strategist, and Andi Emerson Award recipient. Prior to Wilde Agency, Nancy held senior creative management positions with Hill Holliday, Mullen and Digitas. She and her teams have won over 150 awards for digital and direct marketing effectiveness.