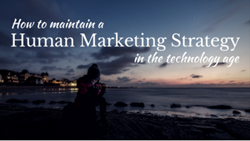 Businesses have always relied on human interaction, but now the personal touch is more important than ever.
Austin, TX (PRWEB) August 01, 2017
This is an amazing technological age, in which, with the touch of a button, anyone can do just about anything for their business and marketing efforts. The downside with technology is that many people are easily lost in it, which changes the dynamic of business, taking it from human interaction to business-to-business or smartphone-to-smartphone.
Businesses have always relied on human interaction, but now the personal touch is more important than ever. Shweiki Media Printing Company is excited to announce that they've teamed up with with marketing and social media guru (and bestselling author) Bryan Kramer to present a webinar on the importance of connecting personally and how to think outside the B2B box and instead implement a human-to-human strategy.
In this webinar, Kramer discusses the following topics:
-The evolution of marketing strategy
-Crafting a message that resonates
-The problem with automation
-How to speak like a human to customers
-And more
The webinar is available on Shweiki's YouTube page and, with an accompanying blog, on Shweiki.com. Click here to watch the webinar now.
About Shweiki Media:
Shweiki Media's mission has always been to help publishers improve by providing the most profitable, hassle-free printing experience possible. This includes guaranteeing the highest quality product, exceptional customer service, world-class communication, an on-time guarantee, and no surprises– whether printing magazines, postcards, flyers or anything else.
As a printer and publisher, Shweiki Media also believes that this hassle-free experience includes making their clients better. Utilizing relationships with industry experts, Shweiki Media strives to educate clients and help them thrive in the exciting world of publishing–while having lots of fun along the way!
For more great info from and about Shweiki Media, please check out our blog at shweiki.com/blog (and sign up for our free weekly expert webinars), and subscribe to our Youtube Channel at youtube.com/shweikimedia. You can also follow us @ShweikiMedia and "like" us at Facebook.com/shweikimedia
About Bryan Kramer:
Bryan Kramer is a renowned social business strategist, global keynote speaker, executive coach, and bestselling author. He's one of the world's foremost leaders in the art and science of sharing, and has been credited with instigating the #H2H human business movement in marketing and social. With more than 350,000 social fans and followers, and an intimate understanding of the intricacies and interworking of both social technologies and social behaviors, Bryan is both a practitioner and authority on the subject. A founding leader in the Human Business Movement, Bryan speaks all over the world to marketing and social audiences on the topic.