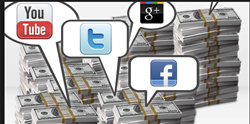 It's important to note that [social media] pages aren't just an extension of the company that's there purely because "everybody's doing it"; social media pages can be used as a marketing tool and a way to make a profit as well.
Austin, TX (PRWEB) August 22, 2013
Due to the constant hype, social media marketing is something that most business owners know all too well, whether they're working their social platforms as an extra limb of the business and relying on the extra customer connection to improve the process or they're less enthusiastic and see it as a fruitless task costing them time and opportunities. However, it's important to note that these pages aren't just an extra extension of the company that are there purely because "everybody's doing it"; social media pages can be used as a marketing tool and a way to make a profit as well. Here Shweiki Media teams up with Ryan Dohrn—the expert Internet marketer behind Brain Swell Media and 360 Ad Sales, who has coached over 3,000 business founders—to present a free webinar explaining ins, outs, tips and tricks of selling social media.
Finding Content Balance
The first thing to keep in mind is finding a balance between pushing content and engaging with the customer. As is always the case when dealing with customer relationships, one's interest should always lie in the potential customer benefit. A simple content rewording can make a world of difference. Take, for example, a bike shop. They could advertise "Mike's Bikes now offering $50 off a new bike. Click here!" or something along the lines of "Hey guys, looking for some family fun or a great way to stay in shape? Mike's Bikes has the answer. All our readers get a great deal this week. Check it out." That simple rewording changes the customer from thinking about $50 they're going to save to thinking about spending some time with their family while getting in shape simultaneously.
Adding a Picture to Increase Interaction
People respond to visuals. By simply adding a picture to a post, one can increase click-through rates (CTR) as much as 15 percent. The Internet is a platform for interaction, and any increase in that interaction is a growth of the brand on all fronts. For Twitter, one should post, in caps, PICTURE or PHOTO before the link itself. Although the literate viewer will be able to read the text, they are still enticed by the possibility of a photo.
Understanding the Price
While it's nice to see the number of fans grow, it's important to know that price is not driven by the number of fans, but by the level of engagement. When pricing, one can't look at simple "likes," but instead must price upon total reach. A post won't show up on every fan's wall, so when pricing a page, one has to dig deeper into analytics and price the actual influence by looking at both total reach and engaged users. Then it's all about choosing which to charge for, depending on which results are more favorable and what best suits the business.
Packaging Social Media
The final step in profiting from social media is packaging one's social media benefits bundled inside operating products. The people who package the social media into whatever they're already selling are the ones most likely to have success. Selling social media by itself, however, is likely to be a struggle.
Click to watch the webinar now!
Shweiki Media's mission has always been to help publishers improve by providing the most profitable, hassle-free printing experience possible. This includes guaranteeing the highest quality product, exceptional customer service and on-time delivery, whether it's postcard, flyer or magazine printing.
As a printer and publisher, Shweiki Media also believes that this hassle-free experience includes making their clients better. Utilizing relationships with industry experts, Shweiki Media strives to educate clients and help them thrive in the exciting world of publishing--while having lots of fun along the way!
For more great info from and about Shweiki Media, please check out shweiki.com, follow us @shweikimedia and "like" us at Facebook.com/shweikimedia.