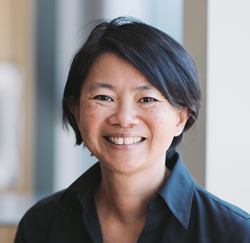 As a respected leader and senior executive, Elizabeth brings unparalleled expertise in operations management that will significantly enhance our team's ability to continue providing best-in-class service and support to our agent partners in lockstep with the growth of our company and community
SAN FRANCISCO (PRWEB) October 06, 2020
Side, the only real estate brokerage platform that exclusively partners with high-performing agents, teams and independent brokerages to transform them into boutique brands and businesses, today announced the appointment of technology industry veteran Elizabeth Tse as Chief Operating Officer (COO), effective September 2020.
Working alongside Chief Executive Officer and Co-Founder, Guy Gal, Tse will be responsible leading Side's onboarding, brokerage operations, people operations and IT teams, as it continues its momentous growth in partnering with thousands of top-performing real estate professionals to accelerate their business. With proven expertise in scaling fast-growth businesses, Tse will play a critical role in ushering a new chapter for Side as it continues to modernize the real estate brokerage industry.
"As a respected leader and senior executive, Elizabeth brings unparalleled expertise in operations management that will significantly enhance our team's ability to continue providing best-in-class service and support to our agent partners in lockstep with the growth of our company and community," said Gal. "We are delighted to welcome Elizabeth to our team to help take Side to new heights."
Tse brings over 20 years of industry experience in senior leadership positions, as well as advisory and board member roles for ultra high-growth global companies including Upwork, eBay, Zuora, Samasource, and Providian Financial Corporation. Most recently, Tse served as Senior Vice President of Operations at Upwork for seven years, where she helped drive high-quality outcomes that led to business growth, differentiation and ultimately, IPO. Additionally, Tse served as president and board member of Upwork subsidiaries including Upwork Escrow, Upwork Talent Group and Elance. With her specialty in advising companies on the future of work, marketplace management, customer success, and digital transformation, Tse is a vital asset to the Side leadership team.
Previous to her role at Upwork, Tse served as COO of Samasource in San Francisco, Calif, where she led day-to-day operations of the award-winning non-profit, overseeing marketing, sales, engineering and business operations. In one year, Tse grew Samasource's active workforce by 195 percent, representing about 900 people across 10 centers in five countries. During her time as VP of Global Billing, Payments and Collections at eBay, she saved the business 60 percent in payment processing costs and improved customer satisfaction by 40 percent.
"I am passionate about improving people's livelihoods and it was personally important for me to join a company with a mission that closely aligned with mine," said Tse. "I look forward to working with Side's talented team to further empower great real estate agents across the country to create and grow their own businesses."
Side is led by experienced industry professionals and world-class engineers who develop technology designed to improve agent productivity and enhance the client experience. Based on its belief that homeownership is a fundamental human right, Side is on a mission to improve the public good by providing top-performing real estate agents, teams and indie brokerages with the best system, support, service, experience, and results.
About Side
Side transforms high-performing agents, teams and independent brokerages into successful businesses and boutique brands that are 100 percent agent-owned. Side exclusively partners with the best agents, empowering them with proprietary technology and a premier support team so they can be more productive, grow their business and focus on serving their clients. Side is headquartered in San Francisco. For more information, visit http://www.sideinc.com.
Media Contacts
Emily Warner | Vanessa Villatoro | Brandon Muratalla
Murphy O'Brien
sidepr@murphyobrien.com