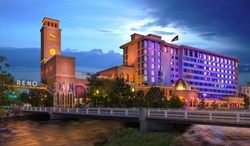 Reno, NV (PRWEB) November 13, 2013
The family-owned Siena Hotel Spa Casino in Reno, NV celebrates the grand opening of its new riverfront restaurant - Whitewater Dining and Spirits - with a unique promotion. Throughout November, Whitewater is offering a Buy Anything, Get One Free special to all guests. Guests that purchase any item on the Whitewater menu will receive any other item of equal or lesser value for free. Whitewater's menu offers a variety of delectable dishes created by classically trained chefs. Guests can choose from burgers, sandwiches, steaks, seafood and more.
Whitewater Dining and Spirits offers views of the Truckee River, an abundance of food options and an exhibition kitchen. Its casual yet energetic environment makes it the ideal spot for entertaining visitors or the perfect night out.
"Whitewater has a river view unlike any other dining establishment in Reno. We are excited to offer not only great food at good prices, but a dining experience that's unique in the city," said General Manager Jeff Pepple. "We want to celebrate our grand opening with our guests by providing them with what we feel is the best offer in town."
Whitewater is located on the banks of the Truckee inside the Siena Hotel Spa Casino. It is open from 7 a.m. to 11 p.m. Sunday through Thursday and 24 hours on Friday and Saturday. Outdoor seating is available on the heated patio. Visit Whitewater in November to take advantage of the Buy Anything, Get One Free special.
The Siena Hotel Spa Casino has quickly become Reno's resort of choice because of its distinct location, luxurious accommodations and stellar casino offers and giveaways. Located on the banks of the Truckee River, the boutique property offers an intimate casino floor with innovative casino promotions and an exciting, winning atmosphere. The Siena's award-winning accommodations and river view dining make this boutique property a truly unique experience for Reno residents and visitors.
About The Siena: The new Siena Hotel Spa Casino is Reno's only riverfront 4 STAR hotel casino. It recently received the prestigious TripAdvisor's Certificate of Excellence. This boutique resort features newly remodeled rooms and suites, fabulous dining options, a world-class spa and an intimate upscale casino. For more information on the Siena Hotel Spa Casino either phone 877-743-6233 or visit their website at http://www.SienaReno.com.