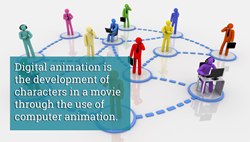 The biggest factor to consider when choosing your marketing video is who your target audience is.
Seattle, WA (PRWEB) August 27, 2014
Businesses that are thinking about having a professional video made for their marketing campaign have many things to consider. Whether it is what style of video, what voice to have, and who their target audience is, there are many decisions to be made.
The recent article by Sierra Media highlights two of the options that they feel can provide a very pointed impact on the voice of a video—digital animation and live action.
"Both styles of video creation are high-quality and effective tools, but can create distinctly different results at the end," they say.
Sierra Media explains the difference between the two styles of video production and highlights the differences between them when it comes to their use in a marketing campaign.
"The biggest factor to consider when choosing between the two is who your target audience is," says Sierra Media. "Live action filming has an understandably more human element, thus making it better suited to serious industries and adult audiences."
They continue saying, "The fact that live people are being filmed, their actual voices being caught, and all the nonverbal cues are being seen goes a long way in allowing audiences to connect with your video on a relational level."
They go on to explain that, on the other hand, digital animation literally has only the imagination as the limit to what can be created. This means that digital animation may be used to communicate a message that would be difficult to portray using live action film. This is especially true for difficult concepts, such as the use of software tools or new cloud technology.
To learn more about Sierra Media's video production services and learn about their creative process, go to their website: http://sierra-media.com/.
About Sierra Media
Daniel A. Cardenas founded Sierra Media, Inc. in 1987. Sierra Media has had years of experience creating innovative, engaging, and effective videos for a variety of industries, from billion dollar enterprise clients to start ups. Their goal is to produce great videos that tell stories which attract viewers to a company's key message. Sierra Media captures the authentic voice of their clients and uses it to tell their stories through the videos that they produce.
Sierra Media's corporate offices are located at 2815 Baker Avenue Suite #201, Everett, WA, but they serve clients mainly throughout Washington State, but they also have several clients along the west coast in Oregon and California.
Contact:
Lexi Ryman
Marketing Manager
lexi(at)sierra-media(dot)com
425.259.4429