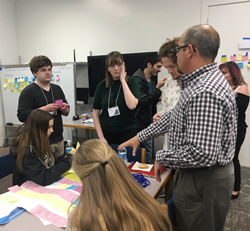 Basing the Makermatic team internship in the makerspace is intentional because the maker community inspires an entrepreneurial and innovation mindset.
ROCKLIN, Calif. (PRWEB) March 07, 2019
In the creative makerspace atmosphere of Hacker Lab powered by Sierra College, student interns are working as a team to develop and present a solution to a real life business challenge guided by business leader, Kevin Cobb, principal, AP Architects, with Denise Bushnell, Business and Information Technology faculty member, Sierra College.
The Sierra College Makerspaces student interns are being paid through the California Community College Makerspace initiative, funded by the California Community College Chancellor's Office under the Doing What MATTERS for Jobs and the Economy framework.
In 20 hours over several weeks, students attend facilitated sessions where they practice soft skills such as communication and team building as well as learn methods of problem identification, ideation and solution finding used by entrepreneurs and the corporate leaders alike, according to Paul DeVoe, strategic consultant on the CCC Maker leadership team. "Students will use these skills, regardless of their career aspirations," said DeVoe. "The intent of the Makermatic Team Internship is to provide students with exposure to opportunities, connections to business mentors and meaningful experiences that will be useful whether they work as an employee or start their own businesses."
Cobb, as maker who enjoys creating hands-on projects as well as leading a company that works with colleges as an architect and planner, is excited to be involved in this makerspace-based team internship. "The students are engaging in a real project where some of their solutions may be applied to final plans," said Cobb. "The interns' energy is off the charts. They are relishing giving their opinions and collaborating with other students."
Students who are involved with Sierra College Makerspaces are serving as assistant coaches, explained Bushnell. "As assistant coaches, they develop leadership skills as they guide their teams of interns," said Bushnell.
The participating Sierra College Makerspaces interns are pursuing a wide variety of majors on campus from art to engineering, explained Bushnell. "What makes this internship experience so exciting is the incredible diversity of the students on the teams," said Bushnell. "They look at the business challenge from different perspectives as they reflect on their own college, ethnic, cultural and social economic experiences. The internship process is pushing them to stretch their thinking and practice building on others' perspectives to find innovative solutions."
As part of the CCC Maker makermatic internship, the business leader offers career advice to the students. During the second session, held February 28, students asked Cobb to share his favorite interview question. "I like to find out the person's long term goal," said Cobb. "I'm not looking for pat answers; I want to have a real conversation about the person's interests outside of work. I want to know if they have an eagerness to learn, and if they enjoy making and repairing things."
Sierra College Makerspaces include campus labs and community partners – Hacker Lab, Truckee Roundhouse and Curious Forge, explained Carol Pepper-Kittredge, Associate Dean, Workforce Innovation, Sierra College. "Makerspaces are inclusive communities where students, faculty and staff can use tools to collaborate and innovate with other makers to build projects, develop curriculum and start companies," said Pepper-Kittredge. "Basing the Sierra College Makermatic team internship in the makerspace is intentional because the maker community inspires an entrepreneurial and innovation mindset. Employers can use the makerspace as a solution center where tools, students and the creative community can find innovative answers to the challenges they face."
To share best practices such at Makermatic, CCC Maker with The National Association for Community College Entrepreneurship (NACCE) is hosting make/SHIFT Makerspace Ecosystem Summit April 24-26 in Irvine CA. Register for maker/SHIFT.
About CCC Maker
A $17 million grant from the California Community College Chancellors Office enabled a network of 24 CCC Maker colleges to plan and develop makerspace communities that reflected each college's unique ecosystem over the past two and half years, impacting over 23,000 students, funding nearly 300 internships and recruiting over 700 employers. Learn more about the CCC Maker initiative, administered by Sierra College, at the CCC Maker website.
About Sierra College
The Sierra College District is rising to the needs of our community. Sierra College serves 3200 square miles of Northern CA with campuses in Roseville, Rocklin, Grass Valley, and Truckee. With approximately 125 degree and certificate programs, Sierra College is ranked first in Northern California (Sacramento north) for transfers to four year Universities, offers career/technical training, and classes for upgrading job skills. Sierra graduates can be found in businesses and industries throughout the region.