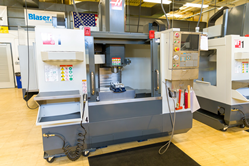 When students can talk with employees about manufacturing careers through the zoom tours, they can start to see themselves in similar roles in the future.
ROCKLIN, Calif. (PRWEB) October 01, 2020
Sierra College is participating in a nationwide event on October 2 for National Manufacturing Day to increase awareness of the contributions manufacturing companies make to local economies and to attract students who like to create with their hands to highly paid, in-demand manufacturing careers.
In Sacramento, educators are working closely with manufacturing professionals who are members of SME Sacramento Valley and the Sacramento Valley Manufacturing Initiative (SVMI), according to Jeff Briggs, Regional Director, Advanced Manufacturing North Region, California Community Colleges, housed at Sierra College. "Students benefit from seeing work environments and are inspired when they learn about career opportunities from those working in the industry," said Briggs. "Virtual tours have proven to be impactful."
Tours are being offered by AMW Design, Garner Products, Inc., Harris & Bruno International, Kratos, Siemens Mobility and Tri Tool, among others. Fourteen schools are participating in 13 virtual tours, reaching over 260 Career Technical Education students. Presentations will be made by representatives such as a manufacturing engineer, CAD/CAM design engineer, CNC operator, welder, electro mechanical technician, quality assurance/quality control and industrial maintenance mechanic.
Connecting students to employers is critical to attracting them to work in the field, explained Dean Peckham, President, SVMI. "Sacramento is home to manufacturers of life saving medical devices, food that is shipped worldwide, robotics used in scientific exploration, components for energy saving electric vehicles and many more innovative companies that are making a positive impact on the world," said Peckham. "When students can talk with employees about careers through the zoom tours, they can start to see themselves in similar roles in the future."
SVMI is also hosting Manufacturing Day for Manufacturers on October 29. Learn more and how to join a virtual tour at SVMI.
About Sierra College
Sierra College District is rising to the needs of our community. Sierra College serves 3200 square miles of Northern CA with campuses in Roseville, Rocklin, Grass Valley, and Truckee. With approximately 125 degree and certificate programs, Sierra College is ranked first in Northern California (Sacramento north) for transfers to four year universities, offers career/technical training, and classes for upgrading job skills. Sierra graduates can be found in businesses and industries throughout the region.