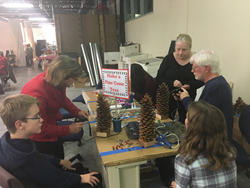 Sierra College Holiday Maker Workshop is a family event with hands-on activities that supports the Student Food Pantry.
ROCKLIN, Calif. (PRWEB) November 27, 2018
Sierra College Makerspaces is spreading good cheer and providing workshops so holiday makers can craft unique gifts at the 2nd Annual Holiday Maker Workshop on Friday, December 7 from 5 PM to 8 PM at Hacker Lab powered by Sierra College, located at 4415 Granite Dr., Rocklin CA. Tickets are $5 per person or $20 per family with a donation of canned food for the Student Food Pantry. Holiday Maker Workshop tickets can be purchased online.
Celebrate the season by sharing a potluck dinner, creating unique gifts, taking photos with Santa and contributing to the Student Food Pantry. Maker stations are open to participants from age eight and above to produce hand-made gifts. All the project craft materials are provided as well as helpful elves will be at each maker station to offer guidance. Activities include designing ornaments, sewing gifts, building jewelry, customizing coasters, painting mini easels, stamping metal charms, creating pinecone trees, making memory quilt blocks, mixing holiday bath salts and more.
Children, from age two to seven, will enjoy kids craft stations, games, movies and snacks in the Little Elves Creative Corner with supervised child care during the event.
Participants are encouraged to bring potluck side dishes and desserts to share, supplementing the hot dogs, cookies, coffee and cocoa being served.
Sierra College appreciates the support of the City of Rocklin, Hacker Lab powered by Sierra College, CCC Maker and Sierra College Foundation in offering this event. Sign up for Holiday Maker Workshop and remember to bring your canned food donations for Sierra College Student Food Pantry as well as contributions to the potluck dinner.
Learn about Sierra Makerspaces and follow us on Twitter @SierraMakers, Facebook @Sierra College Makerspaces and Instagram @sierracollegemakerspaces. Learn more about the statewide CCC Maker initiative, managed by Sierra College.
About Sierra College
Sierra College District is rising to the needs of our community. Sierra College serves 3200 square miles of Northern CA with campuses in Roseville, Rocklin, Grass Valley, and Truckee. With approximately 125 degree and certificate programs, Sierra College is ranked first in Northern California (Sacramento north) for transfers to four year Universities, offers career/technical training, and classes for upgrading job skills. Sierra graduates can be found in businesses and industries throughout the region.