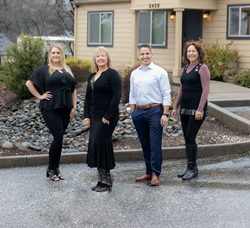 "Our professional mission is to give our clients the overwhelming confidence that we have done everything possible to achieve their goals and enhance their lives through real estate." Mary Margaretich
LOS GATOS, Calif. (PRWEB) March 01, 2021
Sereno is pleased to announce that the Margaretich Team has joined forces with the company. Led by Mary Margaretich, who's been a REALTOR since 1985, and Laif McClellan, the team includes Susan Knox, and Britica Pratt and is one of the most productive in the region serving the Nevada and Placer County markets.
They are among one of the top 2 teams in the region and Mary has been voted the "Best of Nevada County" Realtor for multiple years running. The team will be based in Sereno's new Sierra Foothills location along the Nevada City Highway in Grass Valley.
Sereno, an independent real estate firm, has over 520 agents serving the greater Bay Area communities in the SF Peninsula, Silicon Valley, the East Bay and Santa Cruz/Monterey Coast as well as Lake Tahoe, and now the Sierra Foothills. The company recently evolved its brand image to mark the beginning of a new era for the nearly 15-year-old company and reignite the spirit of independent real estate at scale throughout the region.
"The past few years we have seen many clients from our historical core markets relocate either their primary residence or purchase secondary homes in these highly desirable markets," said Chris Trapani, Co-founder and CEO of Sereno. "Our goal is to partner with the most exceptional, local agents and teams to best serve our growing client base in the most desirable markets in order to create a more seamless experience."
Sereno is honored to partner with Mary and her team who have deep community roots in the area and are active members of the Nevada County Association of Realtors, Placer County Association of Realtors, California Association of Realtors, National Association of Realtors, BNI, and Grass Valley Chamber of Commerce.
To learn more about the Margaretich Team, visit 2428 Nevada City Hwy, Grass Valley, CA 95945 and margaretichteam.com.
About Sereno
Founded in 2006, Sereno is the largest, locally owned and operated, independent real estate company in Northern California with 13 offices and 520 agents in Silicon Valley, the SF peninsula, Santa Cruz, the East Bay, Lake Tahoe and Sierra Foothills producing nearly $5 Billion in annual sales volume. Sereno is ranked among the top 5 in the nation for both per agent productivity and highest average sales price. The company offers a highly curated support platform and provides agents with concierge services to strengthen client relationships, as well as world-class technology for well-executed transactions. Its agent-driven Sereno 1% For Good Charitable Foundation is changing lives in local communities, and to date, generated over $3.5 million in charitable donations given to 246 local organizations.
To learn more, visit sereno.com.