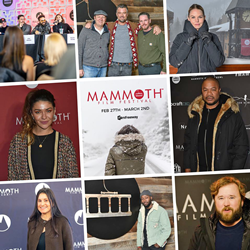 Amid the stunning High Sierra scenery, the festival continues to grow in size and popularity.
MAMMOTH LAKES, Calif. (PRWEB) February 11, 2020
Leading the charge for an ever-changing landscape of film and media, the Mammoth Film Festival (MammothFF) has become California's favorite winter festival. A popular L.A. hangout for its low-key charm and spectacular snowy beauty, Mammoth Lakes, California, is a natural setting for the Film Festival, which returns for its third year February 27 – March 2, 2020, to celebrate filmmakers, actors, directors, writers, producers and their work and offer five action-packed days of events. And Sierra Nevada Resort & Spa, a sponsor and host to the event, provides the perfect home base for enjoying the movie magic – including special MammothFF pricing for festivalgoers.
With over 230 films screened at the Minaret Cinemas and various venues throughout town, and with more than 1,000 attendees representing up to 27 countries enjoying the variety of feature films, shorts, episodic television, action sports films, music videos and more amid the stunning High Sierra scenery, the festival continues to grow in size and popularity. As actor Josh Duhamel said on a MammothFF red carpet in this video highlighting the spirit and excitement of the 2019 festival, "This is the beginning of something very huge."
The lineup for the 2020 MammothFF, expected to be one of the biggest film events of the year, includes "The Undead Series" starring Gary Oldman, the world premiere of Tony Hawk's "Pretending I'm Superman," and the never before seen Quentin Tarantino documentary "QT8: The First Eight" in 35mm print with extended footage, presented by Kodak. Meanwhile, Zac Efron's "Off the Grid: Mammoth Lakes" will have its theatrical premiere ahead of "QT8."
Special events during the five-day festival include an impressively star-studded Film Summit, sharing the script-to-screen nuts and bolts with future filmmakers through a series of interactive panels with industry leaders. And a Charity Celebrity Bowling Tournament on Saturday, February 29, at Mammoth Rock N Bowl features national and local celebrities competing to win the coveted trophy pin. A full schedule of festival film screenings is available HERE.
Conveniently located in the heart of Mammoth Lakes, Sierra Nevada Resort is welcoming festivalgoers with a specially discounted lodging rate when they use the code 2020mammothff when booking a room. The hotel enjoys its own film history as a vintage Rat Pack hangout with pieces of Hollywood history gracing its Duke's Bar, named after the Hollywood legend John Wayne, who also stayed at the lodge decades ago for hunting and fishing trips with his buddies.
Movie memorabilia aside, Sierra Nevada Resort greets guests with comfortable, affordable accommodations and a variety of onsite options for eating and drinking with Jimmy's Taverna offering fresh seafood, Greek cuisine and an award-winning wine list, Rafters Restaurant & Lounge with modern, casual American fare, and Duke's Bar providing an atmospheric place to kick back with cocktails in the hotel lobby. Guests can choose to stay in a lodge room, a fireplace suite that includes a stone fireplace, resort-style kitchen and luxurious bathroom with soaking tub and heated floors, or a three-bedroom chalet with full kitchens.
About Sierra Nevada Resort & Spa
Located in the heart of Mammoth Lakes, California, near Mammoth Mountain, Sierra Nevada Resort & Spa is a premier Mammoth lodging named one of 12 of "California's Best Ski Resorts and Inns" by L.A. Biz. Designed with classic Sierra rustic lodge-style appeal, the 148-room Sierra Nevada Resort & Spa includes 15 fireplace suites and six three-bedroom chalets. Pampering amenities at the hotel include heated bathroom floors and toilet seats, soaking tubs, large waterfall showers, kitchenettes, fireplaces and real leather lounge chairs as well as an on-property full-service spa and three distinctive restaurants. For additional information, visit thesierranevadaresort.com.