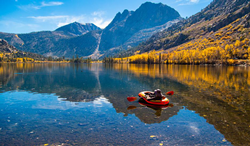 Travelers can test some 17 tranquil trout-filled lakes for fishing and boating, bike paths into pine forests and hiking trails to waterfalls and mountain summits.
MAMMOTH LAKES, Calif. (PRWEB) August 28, 2019
In a recent travel article, the Dallas Morning News encourages its readers to "Discover Mammoth Lakes, Yosemite's lesser-known neighbor," offering insight into the mountain town mostly known for its world class ski resort. While Mammoth winters are typically epic, with famously good snow and terrific skiing conditions, other seasons are equally worth the travel, with fall as a favorite for its lack of crowds, off-peak pricing and endless outdoor activities to enjoy in comfortably cooler temps amid glorious autumn colors. Travelers can test some 17 tranquil trout-filled lakes for fishing and boating, bike paths into pine forests and hiking trails to waterfalls and mountain summits – all while enjoying fall's perks at the country-cozy mountain lodge-style Sierra Nevada Resort & Spa, recommended by Dallas Morning News as where to stay.
As the Dallas Morning News put it, "Think of Mammoth Lakes as Yosemite Lite, an affordable, easily navigable alternative." Situated on six acres in the heart of Mammoth Lakes, convenient to the pleasures of nature and town alike, the Sierra Nevada Resort prides itself on making the accommodations as easy and affordable as possible, boasting a variety of amenities including its outdoor pool and hot tub, a mini golf course (free), plus a steam room, sauna and fitness room.
The resort offers guests three different top dining experiences on-site. Jimmy's Taverna, much beloved by guests – and locals – as Mammoth Lakes' favorite fine dining option, serves ultra-fresh seafood and a Mediterranean-inspired menu from its wood-fired grill, and is recognized by Wine Spectator as a "Mountain Retreat Taking Wine to New Heights." Just steps away, Rafters Restaurant provides inventive New American cuisine with fresh takes on favorite comfort foods, while the Red Lantern offers traditional Chinese cuisine in a sophisticated high-style setting amid the glow of authentic red Chinese lanterns specially customized for the restaurant.
With quick access to all of Mammoth Lakes, and must-see natural landmarks such as the nearby Devils Postpile National Monument; Convict, Crowley and Mono lakes; and of course Yosemite National Park, Sierra Nevada Resort is a popular escape for families, couples, groups and even offers a dog-friendly getaway for guests traveling with four-legged family members.
Guests at Sierra Nevada Resort can enjoy a variety of fall activities such as hiking, horseback riding, mountain biking, rock climbing, fishing, kayaking or canoeing, golfing, birding and soaking in the nearby natural hot springs, all while taking advantage of major photo opps as foliage is at its peak each September and October. And the area's leaf-peeping potential has been noted as a top Golden State option by the Los Angeles Times, which recommended Sierra Nevada Resort & Spa for an autumn stay, calling out the aspen, cottonwood, mountain alder and willow as being among the endless expanse of magnificent trees that "put on a show here."
With rooms starting from $109 for the 2019 fall season for a lodge room (rates based on availability; taxes and fees not included), mammoth fun paired with a budget-friendly stay awaits travelers looking for an exciting and relaxing fall getaway.
About Sierra Nevada Resort & Spa
Located in the heart of Mammoth Lakes, California, near Mammoth Mountain, Sierra Nevada Resort & Spa is a premier Mammoth lodging named one of 12 of "California's Best Ski Resorts and Inns" by L.A. Biz. Designed with classic Sierra rustic lodge-style appeal, the 148-room Sierra Nevada Resort & Spa includes 15 fireplace suites and six three-bedroom chalets. Pampering amenities at the hotel include heated bathroom floors and toilet seats, soaking tubs, large waterfall showers, kitchenettes, fireplaces and real leather lounge chairs as well as an on-property full-service spa and three distinctive restaurants. Boasting a star-studded Hollywood history including as a former Rat Pack hangout, the resort also features Hoagy Carmichael's piano from "To Have and Have Not" in the lobby and Duke's Bar & Fireside Lounge named for John Wayne, who used to meet hunting and fishing buddies there. For additional information, visit thesierranevadaresort.com.