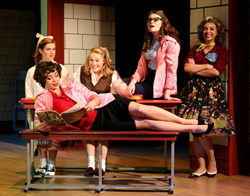 We are excited to welcome back artists and audiences alike. While the pandemic is far from over and its effects continue to evolve, we are committed to a safe reopening of Sierra Repertory Theatre.
SONORA, Calif. (PRWEB) May 21, 2021
Sierra Repertory Theatre is proud to announce our much-anticipated re-opening. Our 2021 Homecoming Season offers 3-mainstage productions and 3-tribute concerts to play in the fall with preview performances starting September 2.
"It's certainly been quite a year for all of us," says Scott Viets, SRT's Producing Artistic Director. "We've been presented with so many challenges daily, and 2021 continues to be no exception. Sierra Rep has now been dark for almost 14 months, much longer than any of us expected. Finally, however, we do see the light at the end of the tunnel!"
"We are excited to welcome back artists and audiences alike," says Managing Director Jeremy Blunt "While the pandemic is far from over and its effects continue to evolve, we are committed to a safe reopening of Sierra Repertory Theatre."
As gathering restrictions ease, live performance venues may open under guidelines issued by state and local authorities and artist unions like Actors' Equity Association and The Stage Directors and Choreographers Society. As safety precautions are ever-evolving, SRT will continue to operate in accordance with the most current guidelines. Actors on stage will appear unmasked. A list of the most current guidelines will be available on the theatre's website.
"We would be remiss not to mention the outpouring of community support we received during our mandated closure," says Jerry Lee, Associate Artistic Director. "The dedication of our fans is astounding and a testament to how vital this organization is to our region. Supporters made it very clear that there was no way they would lose the theatre because of the pandemic. In return, we've devised a dynamite season that offers comedy, suspense, and romance. And plenty of music. There's something for everyone!"
SIERRA REP'S 2021 SEASON
SHREK THE MUSICAL
September 2-October 3 at the East Sonora Theatre
The greatest fairy tale never told comes to life in Shrek The Musical, the award-winning Broadway musical based on the Oscar-winning film. A reclusive ogre finds himself on a life-changing journey alongside a wisecracking donkey and a feisty princess. Throw in a short-tempered wannabe king, a cookie with an attitude, and over a dozen other classic fairy tale misfits, and you've got the makings of a riotously dysfunctional road trip. Featuring all-new songs and outrageous humor, Shrek The Musical is ogre-sized fun for the whole family! It's no wonder The New York Times called it "true happiness" and The Daily Mirror said it's "the most fun you'll ever have."
AGATHA CHRISTIE'S MURDER ON THE ORIENT EXPRESS
October 28-November 28 at the East Sonora Theatre
Just after midnight, a snowdrift stops the Orient Express in its tracks. The luxurious train is filled to capacity, but by the morning, it is one passenger fewer. An American tycoon lies dead in his compartment, his door locked from the inside. Isolated, with a killer on the loose, Detective Hercule Poirot must identify the murderer–before he or she decides to strike again. With a train full of suspects and an alibi for each one, it's the perfect mystery for Poirot, n'est-ce pas? Wax your mustache and hold on to your passport! Ken Ludwig's clever adaptation of the Agatha Christie's Murder on the Orient Express boasts all the glamour, intrigue, and suspense of Dame Agatha's celebrated novel, with a healthy dose of humor to quicken the pace. "A guaranteed good time."–The Huffington Post
MEET ME IN ST. LOUIS: A LIVE RADIO PLAY
November 18-December 19 at the Fallon House Theatre in Columbia State Historic Park
This beloved American holiday classic comes to captivating life as a live 1940s radio broadcast. With the help of an ensemble that brings a few dozen characters to the stage, the story of the Smith family unfolds just before the 1904 world's fair took over St Louis' and the nation's imagination. The musical includes the best-loved songs from the film, including "The Boy Next Door," "The Trolley Song," and "Have Yourself a Merry Little Christmas". "Meet Me in St. Louis: A Live Radio Play is perfect for a holiday outing and spot-on for the entire family. [You] won't leave without a smile on your face."–The Reporter
Sierra Rep's 2021 Tribute Series titles will be announced at a later date.
Single tickets go on sale June 7 at 10am.
"Though we're re-opening, we are by no means out of the woods yet," says Lee. "There's a lot to rebuild. Our year-and-a-half-long closure will make smaller cast shows and reduced programming an inevitability in 2022. We remain committed to maintaining youth workshops and camps and our school-touring program. But if there's anyone out there who is still wondering "How can I help SRT?", the answer is to buy tickets and buy them early."
Season subscriptions will not be sold for the 2021 season. SRT will bring back season subscriptions for the 2022 Season, announced in late August. Ticket prices range from $30 to $42, and discounts are available.
SRT has also made the addition of three preview performances per mainstage production. Tickets to these performances are open to the public at a discounted rate. The preview performance process allows creatives staff (directors and designers) an opportunity to adjust a production based on the addition of a live audience. As well, the theatre is adjusting curtain times for Wednesday matinees to 12pm (instead of the previously scheduled 2pm).
"Time off has also afforded all of us in management to sharpen our goals for the theatre thoughtfully," says Viets. "As a result, our commitment to coming back "safer, stronger, better than ever" is not just rhetoric but well-laid plans that continue to materialize every day. There's no question that the last 14 months have taken their toll on everyone. It's ironic that at a time when live theatre has never been more needed in our lives, we have had to remain closed. However, we couldn't be more excited about the lineup of shows we have in store. We have carefully curated these shows to provide what we feel is needed the most now: joy, comfort, celebration, and fun."
For more information about Sierra Repertory Theatre, please visit http://www.SierraRep.org or call the Box Office at (209) 532-3120. Follow Sierra Repertory Theatre on Instagram at @SierraRep; and on Facebook at Facebook.com/SierraRep. We operate out of two theaters located in East Sonora and in Historic Columbia State Park in Northern California. The East Sonora Theatre is located at 13891 Mono Way, Sonora. The Historic Fallon House Theatre is located at 11175 Washington St. in Columbia, California. Both theaters are air-conditioned and ADA accessible.