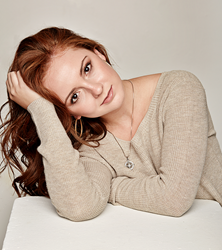 "These songs were written during a tough time for me. I had just gone through a breakup and I turned to songwriting to sort through the emotions I was feeling. A lot of that journey for me ended up being evident in these songs."
Seattle, WA (PRWEB) November 22, 2016
Eighteen year old Sierra Lauren is sure to be a sensation with her debut EP release entitled "True North." Edgy, stylish, and dynamic, this talented pianist combines her classical training and dramatic vocals with an alternative rock twist. The music paints a stunning and haunting tale of love, loss, and finding one's self.
From the moment you experience the beautiful works in her first record "Nightmares," it is easy to believe that Sierra Lauren's piano career started when she was only 4 years old when she entered Suzuki-style piano instruction. By the age of 7, she was performing at renowned venues such as Benaroya Hall in downtown Seattle. Her rigorous training earned her the opportunity to perform with the Suzuki masters in Matsumoto, Japan when she was only 14.
Shortly after, upon hearing her performances on the high school stage, Sierra's peers encouraged her to start recording music. She began in her parents' basement studio and sent demos of her first two original songs, "Nightmares" and "There's Still Love" to several studios in the Seattle area. Producer Eric Lilavois of London Bridge Studio, the world class studio known for acts like Pearl Jam, Candlebox and Macklemore & Ryan Lewis, instantly recognized her talent and encouraged her to write three more songs to release an EP. "True North" is the result.
"The first thing that struck me about Sierra was her ability to express the idea that her past experiences could help empower others, and let them know they are not alone. Her work ethic, love of music, and skill as a result of both is deeply reflected in these songs, her approach and who she really is." said Lilavois.
"True North" is available November 24th, 2016 on Apple iTunes, Apple Music, Amazon.com, Spotify, and SierraLaurenMusic.com.