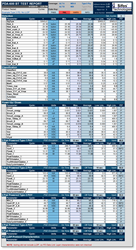 "Sifos Technologies provides the world's most complete and automated PD Conformance Test Suite for IEEE 802.3bt coverage of compliant PoE PD's." said David Lucia, Sifos Technologies President
ANDOVER, Mass. (PRWEB) March 10, 2020
Sifos Technologies announces the fully automated test suite for 802.3bt PD's, including Powered Devices (PD) that classify as Class 5-8, may be added to any PDA-604A that is already licensed for 802.3at PD Conformance Test (CT-AT). As an automated test suite, the 802.3bt PD Conformance Test Suite includes all of the features of the 802.3at test suite while adding many additional features including:

4-pair powering with 4-quadrant polarity combinations
Multi-event classification measurements
Support for Type-3 and Type-4 single and dual signature PD's
Power-demotion testing (emulating Type-1, Type-2, Type-3 PSE's)
Class reset response
Autoclass signature and response
802.3bt analysis of PSE MPS properties
802.3bt LLDP protocol and power negotiation integrity.
"Sifos Technologies provides the world's most complete and automated PoE PD Conformance Test Suite for IEEE 802.3bt coverage of compliant PoE PD's." said David Lucia, Sifos Technologies President
The 802.3bt PD Conformance Test Suite is furnished with a new test report that incorporates the many additional test parameters that are necessitated by the 802.3bt standard. Limit checking is predicated upon pre-test user declaration of PD signature type (single or dual) and PD classification (1-8 or dual 1-5).
As with the 802.3at PD Conformance Test Suite, users are given control over test coverage by quadrant for both the passive and the powered tests. User's may also specify repeated test cycles to get repeatability metrics on all test parameters.
About: Sifos Technologies is the worldwide market leader in PoE (PSE and PDs) testing and also provides innovative Ethernet PHY (physical layer) automated test & measurement solutions for network equipment manufacturers, silicon providers, independent test labs, telecommunication service providers, system integrators, field service organizations, and IT departments.
The company is located just outside Boston, Massachusetts (USA). Follow Sifos Technologies on LinkedIn, Twitter, and Facebook.