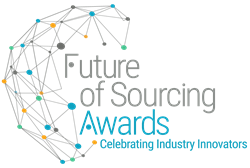 The Future of Sourcing Awards are a testament to the importance of the sourcing function and receiving this award among such an amazing pool of talent is exciting.
JACKSONVILLE, Fla. (PRWEB) November 02, 2018
SIG, the premier membership organization for sourcing, procurement and outsourcing today announces the winners of its inaugural Future of Sourcing Awards. The Awards program, which took place Wednesday, October 17, 2018, recognized companies and individuals that are transforming, innovating and leading the sourcing and outsourcing industry.
Awards were presented, and winners announced in eight team categories, two individual categories and two special categories. The winner of each award represented the best example of innovation and showcased the greatest achievement in fundamentally changing the nature of their business. Winners in each category include:

"The quality of the nominations for the team categories was overwhelming," said Dawn Tiura, President and CEO of SIG. "These companies are advancing the industry in transformative ways and will have a sustainable impact for decades to come."
Winners shared their approach, methodology and results in Sourcing Industry Landscape podcasts prior to the Awards as well as in 15-minute Awards Talks at the Summit.
Individuals were also celebrated at the event for ingenuity, initiative and innovation in two previously announced categories—Rising Star and Sourcing Star—and two special categories—Supernova Hall of Fame and Lifetime Achievement.
The Rising Star Award was presented to Krystelle Bilodeau, Director of Retail and Wholesale Debt Administration at Bank of Canada, who currently serves in a leadership development role in the office of the Chief Operating Officer. In her career, Krystelle has managed large and complex third party relationships, played a key leadership role in the public awareness and education for Canada's transition from paper to polymer bank notes, has championed third party risk management as a business leader, is a contributor to published works, a member of SIG's thought leadership council, and is a contributor to the development SIG's Certified Third Party Risk Management program.
"I really don't have the words to express what it means to be recognized by such an esteemed organization," said Bilodeau. "The Future of Sourcing Awards are a testament to the importance of the sourcing function and receiving this award among such an amazing pool of talent is exciting."
Other finalists included:

Natalie Fahrner, Category Manager II, Strategic Sourcing, FedEx 
Biswajeet Panigrahi, Category Manager II, Strategic Sourcing, FedEx 
Komal Patel, Global Process Owner, Source-to-Pay (S2P), Kellogg Company 
Conor Quarry, Analytics as a Service Lead, IBM 
Kristin Gallagher, Russell Investments Director of Global Sourcing and Procurement, received the Sourcing Star Award. Kristin led the transformation of a market data project at Russell Investments that not only resulted in drastically reduced spend but was also recognized for best-in-class management when benchmarked against more than five peer companies. In the five years before she took on the project, costs were increasing 20 percent annually, but under Kristin's leadership, the spend was reduced by 20 percent in the first year alone and costs have steadily decreased. Kristin also developed a market data playbook and category plan and implemented policies that are supported organization-wide. Kristin has been published in CIO Magazine.
"I am truly humbled to have been given the Sourcing Star Award," said Gallagher. "To have been nominated in this category alongside such talented and highly regarded individuals was such an honor. This award also recognizes the dedication of the Russell Investments team – they have worked tirelessly over the past five years to execute the vision and continue the evolution of the program."
Other finalists included:

Deepak Bansal, Enterprise Head of Sourcing Vendor Management, Envision Healthcare 
Tim Hopper, Responsible Sourcing Manager, Microsoft
Rohan Ranadive, Senior Vice President, Head of Intelligent Automation, BB&T; and
Jennifer Shepherd, Director, Global Sourcing and Procurement, Russell Investments
The awards also named five industry titans as the first inductees into the SIG Future of Sourcing Awards Supernova Hall of Fame, including:

Lawrence Kane, Senior Leader, Strategic Sourcing Functional Excellence & First Time Quality, Boeing
Debbie Manos-McHenry, Chief Sourcing Officer, Huntington National Bank
Greg Tennyson, Chief Procurement Officer, VSP Global
Linda Tuck Chapman, President, Ontala
Kate Vitasek, Author and Faculty, University of Tennessee
"When we started receiving nominations for the Rising Star and Sourcing Star Awards, it was clear that we needed to create a new category," said Sarah Holliman, SIG's Chief Marketing Officer. "The first inductees to the Supernova Hall of Fame have made such important contributions to the industry that we quickly realized that each of them deserved to be celebrated."
Added Mark Pollack, Chief Strategy Officer for SIG, "These individuals have dedicated their careers to elevating the sourcing function and we would have been remiss not to recognize their talent and leadership."
A highlight for the evening was the Lifetime Achievement Award given to Barry Wiegler, President and CEO of SIGInnova and Founder of SIG, whose vision and life's work paved the way for sourcing executives around the world to learn from each other and share best practices. "I am rarely at a loss for words," said Wiegler. "But this humbling moment truly took me by surprise."
The 2019 Future of Sourcing Awards will be held in October 2019. Nominations will be open in February 2019 and details can be found at futureofsourcingawards.com.
About SIG
SIG, http://www.sig.org is a membership organization that provides thought leadership and networking opportunities to executives in sourcing, procurement and outsourcing from Fortune 500 and Global 1000 companies and the advisors who serve them. SIG is widely known as a forum for sharing "next" practices and thought leadership through live networking events, virtual forums and a comprehensive online SIG resource center (SRC), which was developed by and for professionals in sourcing and outsourcing. The organization is unique in that it blends practitioners, service providers and advisory firms in a non-commercial environment. SIG is also the parent organization for SIG University, a one-of-a-kind certification and training program for professionals and executives seeking deep expertise in sourcing and governance for themselves or their teams, as well as Future of Sourcing, a digital publication which provides unrivaled content for the opinion-formers and decision-makers at the heart of the outsourcing space.
###