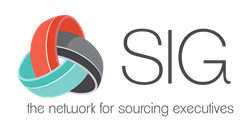 SIG provides procurement professionals with essential skills and knowledge to help steer the organization successfully in times of crisis.
JACKSONVILLE, Fla. (PRWEB) July 21, 2020
SIG, the premier membership organization for sourcing, procurement, outsourcing and risk executives, has just released a schedule of virtual events for industry executives and their teams. With many companies facing travel bans and shrinking corporate travel budgets, digital events are a cost-effective solution for industry professionals to stay connected with peers on common challenges and vetted solutions. SIG members can attend every online event for free and first-time buy-side attendees can also attend free. Here are the upcoming virtual event dates:
August CPO & Executive Virtual Series – August 12
SIGnature Event – Pivoting through Pandemonium: Risk, Innovation, Talent and Stories – September 9
Global Executive Summit – October 13 to 15
SIGnature Event – Transformation and Talent Optimization – November 5
SIGnature Event – Elevating to Excellence: People and the Business – December 9
The CPO & Executive Virtual Series Events are an opportunity for the most senior procurement executives to gather with peers to discuss their most pressing issues. Seats are limited and restricted to buy-side attendees only. The meetings are delivered in an open-mic, collaborative format for a personal and targeted discussion over the course of two hours.
SIGnature Events are one-day events for senior executives and their teams. The format is like a mini SIG Summit, with executive roundtables, deep-dive team trainings, keynote speakers, CPO presentations, analyst overviews and SIG Talks, followed by a Provider Showcase with prizes. Each SIGnature Event has a unique theme with specialized content from subject-matter experts and industry practitioners. SIG members can expect to learn something different and make new connections at each SIGnature Event.
"As the business world adapts and learns how to navigate social distancing because of COVID-19, keeping employees informed and providing opportunities to upskill will be paramount to an organization's success," said SIG CEO and President Dawn Tiura. "SIG provides procurement professionals with essential skills and knowledge to help steer the organization successfully in times of crisis."
In May, SIG transitioned its Procurement Technology Summit from an in-person event with an expected attendance of 300 executives to a fully digital global event with over 1,100 attendees. Summit attendees reported an 86% satisfaction rating. The Global Executive Summit in October will also be a fully digital experience and registration will open soon. The June CPO & Executive Virtual meeting was intended to be a one-time event, but due to positive feedback it was extended as a monthly series through fall.
To attend a SIG virtual event, you must register on the SIG website. Visit the SIG Event Calendar to join an upcoming event or request more information on our website to become a SIG member or sponsor a SIG event.
About SIG
SIG, https://sig.org/ is a membership organization that provides thought leadership and networking opportunities to executives in sourcing, procurement and outsourcing from Fortune 500 and Global 1000 companies and the advisors who serve them. SIG is widely known as a forum for sharing "next" practices and thought leadership through live networking events, virtual forums and a comprehensive online SIG resource center (SRC), which was developed by and for professionals in sourcing and outsourcing. The organization is unique in that it blends practitioners, service providers and advisory firms in a non-commercial environment. SIG is also the parent organization for SIG University, a one-of-a-kind certification and training program for professionals and executives seeking deep expertise in sourcing and governance for themselves or their teams, as well as Future of Sourcing, which provides unrivaled digital content for the opinion-formers and decision-makers at the heart of the outsourcing space.