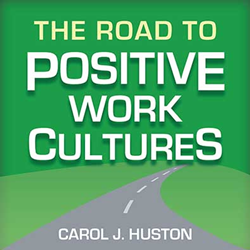 "My hope in sharing these stories is that readers will recognize that leadership is a journey and not a destination—and that although missteps occur, leaders who are authentic and create atmospheres of mutual respect, trust, and appreciation can positively impact the work cultures of others."
INDIANAPOLIS, Ind. (PRWEB) October 24, 2019
Early praise for The Road to Positive Work Cultures:
"Dr. Huston's new book presents a tremendous resource of relevant and practical guidance for transforming work culture. Her book is valuable because it is amazingly timely, given the challenges nurse leaders face in today's social climate, and because it presents well-proven truths and approaches that are of lasting value and applicable in many environments. She has thoughtfully selected clear and compelling material that will become an essential resource for any nurse leader who aspires to be an agent of positive change."
Sheila Burke, DNP, MBA, MSN, NEA-BC
Vice President, Nursing Education Affiliates Inc.
"Life is about the journey, not the destination. Taking the time to learn from Carol Huston's journey will make yours much more enjoyable. Thank you, Carol, for the openness with which you share your experiences, so that we may all benefit from them."
Kenneth Dion, PhD, MSN, MBA, RN
Assistant Dean for Business Innovation and Strategic Relations
Johns Hopkins School of Nursing
Workplace culture is an important and complex part of every organization, representing an organization's values, belief systems, language, traditions, and customs. Current evidence suggests that many nursing work cultures are at best unsupportive and at worst toxic. One of the biggest challenges faced by organizations today is how to develop a collaborative, productive, and positive work culture that boosts performance and employee morale.
In Sigma's newest release, The Road to Positive Work Cultures, award-winning author and international nurse leader Carol Huston provides strategies for creating and sustaining healthy work environments. In this companion piece to Huston's The Road to Leadership (2017), she explores what constitutes a positive work culture, why it is needed, and the role of leaders. Huston also offers insights from thought leaders focused on workplace culture.
"Many of the chapters include personal insights gained from my own leadership experiences, and I have purposefully shared situations where other people or I encountered frustration or failure as a leader," said Huston. "My hope in sharing these stories is that readers will recognize that leadership is a journey and not a destination—and that although missteps occur, leaders who are authentic and create atmospheres of mutual respect, trust, and appreciation can positively impact the work cultures of others."
The author has also created material downloads to support the use of this book in classroom and professional settings. These downloads are available for free at http://hdl.handle.net/10755/18281.
This book is available at SigmaMarketplace.org/SigmaBooks.
The Road to Positive Work Cultures
By Carol J. Huston, DPA, MSN, RN, FAAN
Published by Sigma, 2019
ISBN-13: 9781948057417
EPUB ISBN: 9781948057424
PDF ISBN: 9781948057431
MOBI ISBN: 9781948057448
Price: US $24.95
Trade paperback, 160 pages
Trim size: 6x6
About the author:
Carol J. Huston, DPA, MSN, RN, FAAN, is an Emerita Professor at the School of Nursing at California State University, Chico (CSUC), where she teaches classes on leadership, management, health finance, and health systems. A world-renowned author, presenter, grant writer, and grant investigator, Huston has served on multiple boards of directors and currently serves as Chair of the Enloe Medical Center Board of Trustees.
About Sigma:
The Sigma Theta Tau International Honor Society of Nursing (Sigma) is a nonprofit organization whose mission is advancing world health and celebrating nursing excellence in scholarship, leadership, and service. Founded in 1922, Sigma has more than 135,000 active members in over 90 countries and territories. Members include practicing nurses, instructors, researchers, policymakers, entrepreneurs, and others. Sigma's more than 530 chapters are located at more than 700 institutions of higher education throughout Armenia, Australia, Botswana, Brazil, Canada, Colombia, England, Eswatini, Ghana, Hong Kong, Jamaica, Japan, Jordan, Kenya, Lebanon, Malawi, Mexico, the Netherlands, Pakistan, Philippines, Portugal, Singapore, South Africa, South Korea, Sweden, Taiwan, Tanzania, Thailand, the United States, and Wales.
Learn more at http://www.SigmaNursing.org.