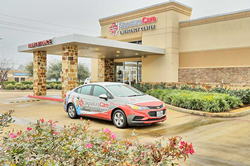 We are happy to offer this to our patients throughout Texas. Bamlanivimab (LY-CoV555) has proven through studies to be effective in reducing the severity of COVID-19 symptoms and we believe it will be very helpful to our patients who receive the treatment
HOUSTON (PRWEB) March 09, 2021
SignatureCare Emergency Center is pleased to announce that it has been approved to administer Eli Lilly's Bamlanivimab (LY-CoV555) COVID-19 treatment to patients through its network of 24-hour emergency centers located in Texas.
The company said this week that it is now offering the treatment to Texans through all 21 ER locations in their network, including the newest emergency rooms in Spring and Plano, TX.
Eli Lilly recently announced that Bamlanivimab (LY-CoV555) was able to substantially reduce symptomatic disease among residents and staff of long-term facilities during its recently completed study.
The company said it was pleased with the positive results, which showed Bamlanivimab was able to help prevent COVID-19, substantially reducing symptomatic disease among nursing home residents.
Dr. Hashibul Hannan, a board-certified emergency medicine physician and managing partner at SignatureCare Emergency Center, said SignatureCare ER is glad to receive the approval and has already begun administering the life-saving treatment.
"We are happy to offer this to our patients throughout Texas. Bamlanivimab (LY-CoV555) has proven through studies to be effective in reducing the severity of COVID-19 symptoms and we believe it will be very helpful to our patients who receive the treatment," he said.
Dr. Hannan said that although no preregistration is required before receiving the treatment, all patients will be evaluated by the attending ER physician prior to receiving the treatment.
"This treatment is available now and no preregistration is required to receive the treatment through our emergency centers. Simply walk into the ER and our board-certified physicians will evaluate you to ensure you can receive the treatment. It will then be administered if you are eligible," Dr. Hannan said.
To find the SignatureCare Emergency Center in your area, please go to https://ercare24.com.
About SignatureCare Emergency Center
Houston, TX based SignatureCare Emergency Center owns 24-hour emergency centers throughout Texas including nine locations in the Houston area (Montrose, Houston Heights, Cypress/FM 1960, Copperfield, Memorial City, Westchase, Bellaire, Mission Bend/Sugar Land and Stafford), Atascocita/Humble, Killeen, Austin, College Station/Bryan, Paris, Midland, Odessa, Texarkana, Spring, Plano, and Lewisville, TX.