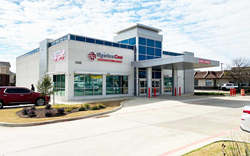 At SignatureCare Emergency Center, we say that 'Your Care is Our Signature.' That is not just a slogan. We take that to heart. Our medical professionals and support staff take pride in making sure that we take care of you and your family from the moment you walk through our doors
HOUSTON (PRWEB) February 24, 2020
SignatureCare Emergency Center, the owner of 24-hour emergency rooms throughout Texas, has added a new ER in Lewisville, TX. The new ER joins 16 existing locations in Houston, Stafford, Killeen, Austin, Paris, Texarkana, Odessa and Midland, TX.
The new emergency room is located at 1596 West Main Street, Lewisville, TX 75067 (Google Map).
The new location is staffed by board-certified emergency room physicians and registered nurses, with the experience to treat most major and minor medical emergencies for adult and children, including pediatric emergencies. All SignatureCare Emergency Center freestanding ERs operate like local hospital emergency rooms but without the long wait times associated with those ERs.
"We are happy to be in Lewisville, TX to meet the emergency medical needs of the area residents and businesses," said Dr. Kanti Bansal, a board-certified emergency room physician and managing partner at SignatureCare Emergency Center.
"Like all SignatureCare ERs, our goal is to make sure our patients feel welcome as soon as they walk into our ER in Lewisville, TX. We have board-certified physicians on-site 24/7 so our patients do not have to wait to be seen," Dr. Bansal added.
"At SignatureCare Emergency Center, we say that 'Your Care is Our Signature.' That is not just a slogan. We take that to heart. Our medical professionals and support staff take pride in making sure that we take care of you and your family from the moment you walk through our doors," he continued.
Dr. Bansal said that SignatureCare ER strives to wait on the patients, instead of the other way around. "What I mean by that is that we will have you in a private room talking to our specialists in no time, usually within minutes of your arrival."
He urged residents of Lewisville, TX to stop by the emergency room anytime and say hello to the staff.
"Our Medical Director and other staff are always available to welcome our neighbors. I urge them to just stop by, chat with the staff and get to know them. Don't wait until you have an emergency. Come on in and have a cup of coffee, tea or hot cocoa, and get to know us," he added.
About SignatureCare Emergency Center
Houston, TX based SignatureCare Emergency Center owns 24-hour emergency centers throughout Texas including nine locations in the Houston area (Montrose, Houston Heights, Cypress/FM 1960, Copperfield, Memorial City, Westchase, Bellaire, Mission Bend/Sugar Land and Stafford), Killeen, Austin, College Station, Paris, Midland, Odessa, Texarkana and our newest location in Lewisville, TX.
Additional information is on our website at https://ercare24.com.