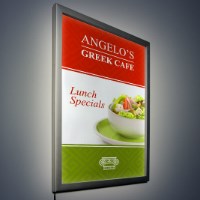 When searching for new products and accessories to add to our site, we listen directly to our customers' feedback and requests. With each addition, more and more of our customers will be able to find what they need. –Rick Debus, CEO, Signazon.com
Dallas, TX (PRWEB) December 11, 2013
Custom printing company Signazon.com celebrates 2013 with several new and revamped product lines. The addition of these products, such as LED lightboxes and a new Magnetic material, gives customers an expanded selection of products from which to choose.
An industry leader in online printing, Signazon works with business owners around the country to create custom advertising solutions for their businesses. The company offers a wide range of products that includes car magnets, window graphics, vinyl banners, and business cards. Its advanced e-commerce technology and innovative online design tool allows customers to create unique products of all shapes, sizes and quantities.
The launch of new products comes during a year of extensive growth for Signazon. Highlights of 2013 include a redesigned website with streamlined navigation and user experience, a new production office in the New York Metro area, and continued staff expansion.
New products include several sign accessories, each designed to make displaying custom signage easier for customers. Significant additions include new accessories for displaying banners, such as hanging and mounted trapeze bars, as well as X stands.
Another important launch for Signazon is LED lightboxes, with which comes the addition of Backlit Poster, a new semi-translucent, adhesive-free film that fits right on top of the LED display. Popular with retailers, backlit signs and lightboxes are part of the Wall Signs product line, which also features custom acrylic signs, menu boards, and canvas prints.
"When searching for new products and accessories to add to our site, we listen directly to our customers' feedback and requests," says Debus. "With each addition, more and more of our customers will be able to find what they need all in one place."
In addition to the new product launches, several existing products have been updated with new materials. One of the most-notable changes comes with an updated Magnetic material for car magnets. The new Magnetic has the same thickness and strength as the previous material, but offers a smoother print surface and more vibrant colors. Retractable banners have also been improved with a new Flex Banner material that is more eye-catching and blocks light, making this product perfect for tradeshows and conventions. The ultra-smooth banner material works seamlessly with Signazon's retractable banner stands and won't curl or fray.
Plans for additional products and new site functionality are already in place. According to Debus, Signazon.com's focus is on maintaining customer loyalty through product expansion and a streamlined ordering process.
"This is just the start," says Debus, "2014 is going to be an exciting year for us."
For more information about Signazon's new products, visit http://www.signazon.com.
About Signazon.com
11969 Plano Rd., Ste 190
Dallas, TX 75243
1-800-518-1217
PR Contact: Jason(dot)p(at)signazon(dot)com
Signazon.com is the leading online company for custom business signs and banners. Signazon.com offers free template-based graphic design and high-quality, full-color digital printing, as well as fast nationwide shipping of car magnets, window graphics, yard signs, marketing materials and more through its Dallas, TX and Secaucus, NJ production facilities.