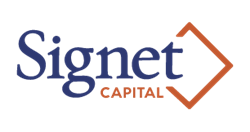 We value the long-standing relationship we have established with Signet, it's one that continues to grow
COLUMBUS, Ohio (PRWEB) December 16, 2020
Company leadership announced last week that Columbus, Ohio-based Signet Capital was selected in 2016 as Advisor to the Airport in securing financing for Akron-Canton Airport's recently unveiled gate replacement plans.
The 10-year $34 million modernization project, which includes a new, 41,600 square-feet concourse area and a new sit-down restaurant, broke ground last week. The new gates are projected to open late fall 2019 or spring 2020, depending on weather.
"We are thrilled to have been selected to secure financing for Akron-Canton Airport's Gate Replacement Project," says David Fumi, Managing Director of Signet Capital. "CAK is a wonderful resource to our entire region, and we are honored to be able to contribute to its long-term health and positive impact to the region," says Fumi.
Signet Capital, a portfolio company of Akron-based private investment firm Signet LLC, is a boutique investment banking and structured financial services firm with extensive structuring and distribution capabilities for debt and equities securities.
Fumi worked closely for many months with CAK President & CEO Rick McQueen and Jim Krum, Contracts & Finance Manager to structure the capital financing plan. Fumi was pleased to find a structure that works well for CAK and allows them the capital and flexibility required to get the project off the ground and maintain its funding throughout the overhaul.
"We explored numerous financing options for the Airport, but ultimately settled on a structure that provides both an attractive cost of funds and repayment flexibility; with a portion of the project being financed through the Ohio Department of Transportation's State Infrastructure Bank Program, and a portion financed through the issuance of tax-exempt bank bonds purchased by S&T Bank," said Fumi.
CAK is also funding part of the project with Federal Airport Administration Airport Improvement Program grant funding.
According to CAK's McQueen, Signet Capital was chosen based on its ability to secure attractive financing for the Airport and its understanding of the Airport's ongoing capital needs and existing debt structure.
"We value the long-standing relationship we have established with Signet, it's one that continues to grow," said Rick McQueen, President and CEO of the Akron-Canton Airport. "Finding a partner who understands the needs of CAK and the intricacies, regulations and steps it takes to finance an airport such as ours is invaluable. We look forward to working together to take this big step into the future."
Signet also worked with CAK in 2010 in assisting the Airport in securing financing for its long-term parking lot expansion.
# # #
About Signet Capital
Signet Capital, LLC, is a boutique investment banking and structured finance services firm with extensive structuring and distribution capabilities for debt and equities securities. Signet Capital is able to effectively place and syndicate securities through our strong relationships with financial institutions, private equity firms and other investors providing access to unique sources of capital. Transaction execution is provided by Signet Securities, a FINRA, SIPC, and MSRB member broker dealer. Visit Signet-Capital.com
About Akron-Canton Airport
What makes Akron-Canton Airport a better way to go? At CAK, we're all about offering our customers a convenient, relaxing and enjoyable experience. Travelers love our big airport amenities and small airport feel. We are proud to offer nonstop service to 12 destinations and one-stop access to the globe aboard four exceptional airline partners. Keep up to date on all things CAK at akroncantonairport.com, Facebook or Twitter. Akron-Canton Airport, a better way to go.
About Signet LLC
Signet brings an innovative, unconventional approach to global investment that embodies creativity and forward thinking to achieve long-term success. With leadership and expertise in the areas of project structuring, capital formation, operational investment and management, we tailor strategy and resources to meet each unique opportunity. Boundless in ideas and tactics, Signet has spent 20+ years crafting collaborative partnerships that advance initiatives in real estate, diversified manufacturing, health and wellness, emerging technologies, investment banking and finance. Learn more at signetllc.com.