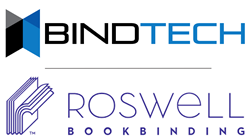 Co-owner and CEO of BindTech, John Helline, expressed his vision for the future. "This industry is evolving, and our firm will remain out front because of our innovative philosophy for growth and continuous expansion of reach by partnering with the best in the industry, such as Roswell Bookbinding."
CLEVELAND (PRWEB) December 16, 2020
Signet LLC's family of graphic arts operating companies has expanded throughout the Midwest over the past five years with the acquisitions of Riverside Group in New York ('15), PSSC in Massachusetts ('15), BindTech in Tennessee ('17), and Specialty Bindery in Tennessee ('19). As of September 2019, their growth has expanded west with the acquisition of Arizona-based Roswell Bookbinding.
Roswell Bookbinding has nearly 70 years of excellence in the trade with a one-of-a-kind combination of the latest high-speed technology and old-world hand binding craftsmanship. This allows the bindery to accomplish projects that no one else in the country can do, such as specialized restoration/conservation, short runs, prototype, luxury packaging, unique materials, and oversized projects.
"By adding Roswell Bookbinding to our family of post-press service companies, we grow deeper and wider in our service offering," said Chad Dillon, Vice President of Operations and Sales at BindTech. "It is not just continued business as usual for Roswell Bookbinding clients. Together, we combine our strengths and minimize our weaknesses to gain further reach, more capacity, disaster planning, shared logistics, and the best service to our marketplace for all their needs."
Signet LLC will maintain Roswell Bookbinding's strong brand equity as well as their entire team, including President, Mike Roswell. Roswell is the second-generation leader of Roswell Bookbinding and looks forward to the expansion of resources in the partnership.
"The timing was right and my comfort level with the vision of Signet leadership made it a no-brainer," Roswell said of the acquisition. "The Signet LLC team is honest, aggressive, and knowledgeable. Having them as a sounding board and being part of something bigger is a smart step forward for my company and my loyal clients."
Roswell Bookbinding was established in 1960 in Phoenix, Arizona by Mark and Iris Roswell. The original focus of the company was on Library Binding, with binding service initially provided to private and public libraries statewide in Arizona. Edition Binding was added in the late 1960's, and the family-owned business has grown steadily over the past five decades. Mike Roswell, the son of the founders, has been involved in the business for 40 years, expanding it both nationally and internationally.
With the acquisition comes the Arizona-based facility, taking the current total footprint of the Signet LLC graphic arts group to 350,000 square feet in manufacturing and warehousing and over 250 employees nationwide. This depth leads to a strong pool of talent, abilities, and bench strength within Signet LLC.
"The post press production industry is experiencing consolidation, but we know that it will never go away," said Anthony (Tony) Manna, Chairman of Signet LLC. "Partnering with strong and well-respected industry leaders like Roswell Bookbinding with unique craft expertise keeps us at the forefront of this critical market."
Co-owner and CEO of BindTech, John Helline, expressed his vision for the future, "This industry is evolving, and our firm will remain out front because of our innovative philosophy for growth and continuous expansion of reach by partnering with the best in the industry, such as Roswell Bookbinding."
Signet's graphic arts expansion is rolling out in parallel with BindTech's updated brand look and website. Visit http://www.bindtechinc.com to learn more and see their new branding.
About Signet LLC
Signet brings an innovative, unconventional approach to global investment that embodies creativity and forward thinking to achieve long-term success. With leadership and expertise in the areas of project structuring, capital formation, operational investment and management, we tailor strategy and resources to meet each unique opportunity. Boundless in ideas and tactics, Signet has spent 20+ years crafting collaborative partnerships that advance initiatives in real estate, diversified manufacturing, health and wellness, emerging technologies, investment banking and finance. Learn more at https://www.signetllc.com/.
About BindTech LLC
Book binding is a family tradition at BindTech. Over four generations of excellence in this trade, and over 68 years of continued experience has earned our employees the title of "Master Craftsmen". From coast to coast, BindTech services major printers and publishers throughout the United States. From perfect binding to deluxe gilded edge leather binding, and everything in between, attention to detail is sewn in every stitch, and time-honored traditions of binding are performed by employees who each day stand behind our name. With operating plants in Nashville, Cleveland, and Church Hill, BindTech's commitment to quality and service has earned a trusted name throughout the Graphic Arts industry, a name which will forever preserve the ties that bind. Visit http://www.bindtechinc.com.
About Roswell Bookbinding
Roswell Bookbinding is an Arizona-based company with almost 60 years of bookbinding experience. We are proud to offer a variety of skillfully crafted bookbinding solutions. Roswell is the only bindery in North America that incorporates the latest high-speed technology combined with Old World hand binding craftsmanship. This enables us to provide specialized services including trade binding, luxury packaging, restoration/conservation, short runs, prototype, and specialty binding with clients in all 50 states and all Canadian provinces. Learn more at http://www.roswellbookbinding.com.
About Publishers Storage & Shipping LLC
For nearly 50 years, Publishers Storage and Shipping has provided end-to-end service solutions for inventory management requirements for publishers. With a deep knowledge of the industry, over 300,000 square feet of warehouse space, modern technology and a team of experts, PSSC meets the unique needs of the publishing industry. PSSC has established warehouses in Massachusetts, Michigan and Tennessee. Learn more at http://www.pssc.com.