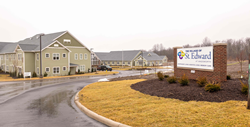 We very much appreciate Signet, particularly working with their people, for providing the opportunity for senior living alternatives for the people of the Wadsworth area. -John Stoner, President and CEO of The Village of St. Edward
Akron (PRWEB) December 16, 2020
Signet Real Estate Group officially celebrated the grand opening of their senior living community project last week, in partnership with the Village of St. Edward, in Wadsworth, Ohio. The celebratory opening was commemorated during a ribbon-cutting and VIP reception at the facility on March 8th, attended by over 150 guests.
The $21.6 million project is the first phase of St. Edward's plan to expand their footprint as the demand for quality senior care begins to grow. The new community offers three levels of senior care: independent living, assisted living, and memory care. The facility features three distinct wings for independent, assisted, and memory care living that all share common areas.
Signet Real Estate Group, which has decades of experience in serving the healthcare industry, as well as planned living and student housing communities, is the owner and developer for the project, while the Village of St. Edward operates the facility.
Design and construction partners on the project included Andrews Architects, Lewis Land Professionals, Mosaic Design, and Pride One Construction.
At the opening event, John Stoner, President and CEO of The Village of St. Edward, described his excitement about opening a senior community in Wadsworth and said that Signet had been a great partner throughout the process. "We very much appreciate Signet, particularly working with their people, for providing the opportunity for senior living alternatives for the people of the Wadsworth area," said Stoner.
The Village of St. Edward, founded in 1964 and headquartered in Fairlawn, Ohio, is recognized as one of Northeast Ohio's most respected private facilities for senior care.
"We are thrilled to partner with such a respected organization as the Village of St. Edward," said Anthony (Tony) Manna, Chairman of Signet LLC. "We know this facility will be a wonderful home for many and we are happy to help deliver it to the Wadsworth community."
"Everyone involved with the project, from the folks at St. Edward to city officials and other project partners, has been instrumental in finishing this project well, said Kevin Belt, Vice President of Development at Signet Real Estate Group. "They have been wonderful to work with, and we look forward to a long successful partnership."
About Signet Real Estate Group
Signet Real Estate Group, a Signet LLC company, is a full-service development and project management firm specializing in the areas of higher education, health care, research and public-private partnerships. The company transforms complex development challenges into collaborative opportunities through a creative, flexible and customized approach. Since the firm's inception, Signet and its family of companies have successfully managed and currently have in progress more than $4.5 billion in real estate development and construction throughout the U.S. Learn more at http://www.signetre.com.
About The Village of St. Edward
The Village of St. Edward, operating in Fairlawn since 1964, is a Continuing Care Retirement Community (CCRC) providing services and residency for senior citizens. Initially founded by the Diocese of Cleveland and the Sisters of St. Dominic of Akron, the Village is dedicated to meeting patients' and residents' spiritual, physical and psychosocial needs in a faith-based environment. Learn more at http://www.vscommunities.org.