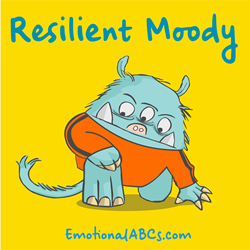 "We are thrilled with the great results from schools across the country showing how much Emotional ABCs is able to help children build social-emotional skills." Cynthia Sikes, CCO, Emotional ABCs
LOS ANGELES (PRWEB) November 24, 2020
Emotional ABCs, an award-winning K-3 Social Emotional Learning (SEL) curriculum used by parents and teachers in more than 75 countries and over 60,000 schools in the USA, releases the findings of their nationwide study. The results show a statistically significant increase in student participants' social emotional learning (SEL) competences when Emotional ABCs is integrated into the classroom. The size of the SEL score increase was 3 times higher for Emotional ABCs students than non-participating students.
For the 2019 school year, Emotional ABCs was part of a rigorous, wide-ranging study to determine the effect of the program's impact on students' social emotional learning (SEL) competences. The evaluation included 473 students in first and second grade at eight different elementary schools across the United States including California, Illinois, Indiana, Michigan, New Hampshire and Pennsylvania. All schools had control classes and participating classes.
Measuring the results with the nationally recognized SEL evaluation from Aperture Education, the DESSA-mini, the study found that using Emotional ABCs curriculum in the classroom significantly improved students' social emotional learning (SEL) competences, resulting in a meaningful increase in SEL scores in a single year. The average student in the Emotional ABCs program increased their SEL scores by 10% more than the average student who received no SEL instruction.
The full study, "Emotional ABCs Accelerates Social and Emotional Learning Among First and Second Grade Students," shows methods and outcomes.
"For decades we've known that social and emotional competencies are essential skills for children's success," says Cynthia Sikes, CCO of Emotional ABCs. "Students who improve their SEL scores, also increase their scores on standardized achievement tests and their GPAs, as well as show improved relationships with peers, teachers and family members. These students also display higher self-esteem and lower rates of depression."
"We are thrilled with the great results from schools across the country showing how much Emotional ABCs is able to help children build social-emotional skills," stated Cynthia Sikes, CCO, Emotional ABCs.
The Emotional ABCs Program, a sequential, skill-building Social Emotional Learning (SEL) curriculum for children ages 4-11, was developed in collaboration with psychologists, therapists, and educators. Emotional ABCs Classroom is designed around a set of 20 Classroom Workshops that use short modules for flexible teacher use. There is no teacher training needed for the easy-to-use, self-explanatory materials. The curriculum can be taught in class, online, or in a hybrid fashion. Workshops include interactive online activities, videos, printables, teacher-student, and student-student interactions and are set up so instructors can manage pacing and performance.
About Emotional ABCs
Emotional ABCs is America's #1 Awarded evidence-based Social Emotional Learning (SEL) program. The content aligns with the CASEL areas of social emotional learning SEL competencies (Self-Awareness, Social Awareness, Self-Management, Responsible Decision-Making, Relationship Building). Several formats of Emotional ABCs have been developed to meet different needs, including Parent Subscriptions, a Free-to-Teachers Classroom Subscription, and our recently released Premium Schools Program for school-wide accounts.
Emotional ABCs Awards
Emotional ABCs is a Common Sense Eduction "Top Pick for Learning," and the program's many awards include the prestigious American Business "Stevie" Gold Award and People's Choice Award, the [2020 Codie Award for "Best PreK/Early Childhood Learning Solution" and the 2020 award for Best Digital Tools for Teaching and Learning by the American Association of School Librarians (AASL).