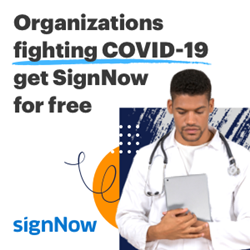 BOSTON (PRWEB) March 18, 2020
Being a 100% HIPAA compliant solution, signNow has been actively working with thousands of hospitals, pharmaceutical and other healthcare institutions for over a decade. "Today is the day we would like to say thank you and offer a helping hand to all those healthcare workers who are risking their lives spending endless days and nights at work, protecting us all from the growing global coronavirus threat," announced Borya Shakhnovich, CEO of airSlate -- parent company of signNow. "That's why we're offering 3 free months of our Business Cloud to all healthcare institutions that would benefit from reducing paperwork, increasing social distancing and improving efficiency through automation so they can take care of more patients with already stretched resources."
signNow increases efficiency by providing:

A HIPAA compliant solution
Physician credentialing and reporting
E-signing consent forms, patient intake forms, release forms
Audit trails and compliance
Digital search and records management
No matter how many staff members are working at a reception desk, signNow only takes a few minutes to set up and get started, allowing you to focus on helping those who require help most.
Another advantage for hospitals and clinics that use signNow is that the solution can be used from any internet-connected device such as a laptop, tablet or smartphone (iOS and Android).
"In this time of crisis management, every minute counts! Today we're reaching out to all hospitals, clinics and medical centers in the USA to say: "We are here to help and do our small part in containing the epidemic," said Borya Shakhnovich, CEO of airSlate -- parent company of signNow.
Fill out a short form HERE and our Support agents will help set up your free account of Business Cloud!
About SignNow:
With 6 million users worldwide, signNow offers a comprehensive but easy-to-use e-signature solution. This online solution works equally well on desktop computers and mobile devices (with Android or iOS) and is both HIPAA and GDPR compliant.