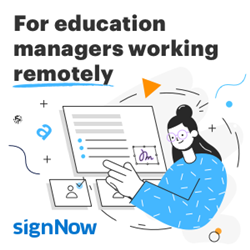 BOSTON (PRWEB) March 27, 2020
"Last week we started giving free subscriptions to healthcare institutions. We saw an amazing response and feedback. People really need signNow to continue running their business. Today we would like to extend our help to the education sector as well. US educators are in need of a comprehensive but easy-to-use online solution to simplify working remotely." Borya Shakhnovich, CEO of airSlate -- the parent company of signNow.
March through May is a highly important season for any educational institution: midterm tests are underway, first preparations for graduation ceremonies are already scheduled, Fall 2020 enrollment is open and much more. "We have been working with Admissions Offices, departments and International Offices at major US universities for several years now. Today we are offering a helping hand to all educators struggling with paperwork and document exchange during this period of remote educating."
signNow increases the efficiency of remote work in the education sector, providing a powerful e-signature tool and fillable fields functionality for:

Registrar offices and administrative functions
Enrollment forms and applications;
Test, exams and student surveys;
Research grant applications;
Campus policy forms;
Alumni membership forms and much more.
"Working off-campus using your University VPN might get tricky sometimes as overladen platforms and complex apps might take a while to load and cannot really function at their regular speed. In contrast, signNow has a lightweight interface that isn't hindered by VPN. We are here to help you make sure education and the whole educational ecosystem persist and thrive," stated Borya Shakhnovich, CEO of airSlate -- the parent company of signNow.
Fill out a short form and our Support agents will get you set up with your free Enterprise account!
About SignNow:
With 6 million users worldwide, signNow offers a comprehensive but easy-to-use e-signature solution. This online solution works equally well on desktops and mobile devices (iOS and Android). Working with many large organizations worldwide, signNow undertakes the commitment to offer accounts with access to an unlimited number of documents and templates, NOT charging per document transaction.