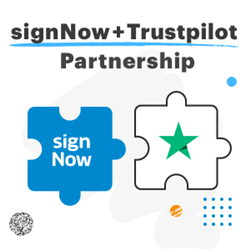 BOSTON (PRWEB) April 03, 2020
Choosing the right e-signature provider can be difficult, especially when timelines are tight and resources for testing different vendors are limited. Many firms claim that their software can meet customer needs and satisfy all the necessary requirements. At the same time, choosing the right e-signature vendor is a critical decision for most businesses with many vendors requiring multi-year contracts and complex implementations. These factors drive up the cost of switching services, whereby the smallest mistakes can be costly.
Often, the best way to make an informed decision quickly involves basing it on past customer experience and success. But where can you find the information you need to make the right decision for your business? Independent, third-party platforms like Trustpilot, the world's most powerful review platform, are built to serve this purpose. The platform provides consumers an invaluable tool to assess the transparency and reliability of brands. By partnering with Trustpilot, potential signNow customers can properly familiarize themselves with the customer experience based on reviews from previous or existing customers.
"When we first entered the e-signature solution provider space, we were surprised to learn how much misinformation was out there. With a fairly complicated product and nuanced implementation, finding the right solution for your business can be hard. That is why we proactively partnered with an independent, trusted, third party solution like Trustpilot. Doing so ensures that every prospective customer has access to the information they need to make an informed decision. This way every customer is able to choose the ideal provider that best meets their needs in order to make their implementation successful. We encourage every customer to do their own research before making their final buying decision," says Borya Shakhnovich, CEO of airSlate -- parent company of signNow.
"Companies that choose Trustpilot are showing the world they believe in trusted, transparent, and authentic customer feedback," said Zach Pardes, Director of Communications, North America at Trustpilot. "Furthermore, they are dedicated to participating in open dialogue with their customers to consistently deliver and improve all areas of their business, from customer support to product implementation and delivery."
About signNow
signNow is an easy-to-use e-signature solution that allows users to set up complex e-signature workflows and get documents approved and e-signed faster. For its 6 million daily users, signNow offers a desktop version and apps for both iOS and Android. signNow also integrates with a number of different platforms including Salesforce, Netsuite, Microsoft Dynamics 365, Office 365, Google Suite and others.
About Trustpilot
Trustpilot is the world's most powerful review platform - free and open to all. With more than 85 million reviews of over 360,000 websites, Trustpilot gives people a place to share and discover reviews of businesses, and we give every company the tools to turn consumer feedback into business results. Our mission is to be a universal symbol of trust helping bring people and companies closer together. Trustpilot reviews are seen more than 2.5 billion times each month by consumers worldwide. With offices in Copenhagen, London, Edinburgh, New York, Denver, Berlin, Melbourne, Vilnius, Trustpilot's 800 employees represent more than 40 different nationalities. For more information, visit https://www.trustpilot.com.