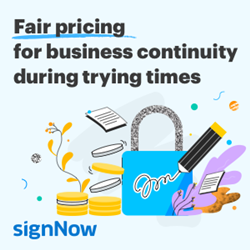 BOSTON (PRWEB) March 30, 2020
"In the time of remote work and social distancing, e-signature has become critical for business continuity. Unfortunately, we hear stories from our customers of vendor price-gouging. We are here to promise that we will NEVER do that. It's unconscionable to take advantage of people's hardships in this difficult time," says Borya Shakhnovich, CEO of airSlate -- parent company of signNow.
More specifically, signNow's fair treatment pledge includes the following provisions:

To not charge by number of document transactions beyond reasonable limits
To maintain subscription prices at current levels for the period of the pandemic
To not impose unfair limitations on the most widely used functions
To not discriminate against businesses based on the grounds of their size/sector
To treat all customers with equal fairness
"We are here to support our customers, large and small, profit and non-profit, educational and healthcare. We believe that empathy and kindness is more important than profit, and we will stand by our commitment to deliver first-class service and products throughout. Our customers love what we do, and we treasure that relationship. " - says Borya Shakhnovich.
About SignNow:
With its 6 million users worldwide, signNow offers a comprehensive but easy-to-use e-signature solution for businesses and organizations across all sizes and sectors. As a SaaS solution, signNow has always popularized the idea of a 100% paperless office, mobile-first business and fair pricing in the digital age. Check out our customer reviews on Trustpilot and ShopperApproved to see what people are saying about SignNow.