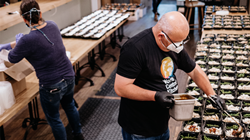 "When the pandemic started, we made a promise to help people," said Landry. "We knew this year was going to be extraordinarily tough for many and we had a responsibility to help, if we could."
CHARLOTTESVILLE (PRWEB) December 23, 2020
Sigora Solar has chosen to give a portion of their profits this year to both World Central Kitchen and New Hill Development Corporation to support those most impacted by the devastating effects of the COVID-19 pandemic. Sigora is helping both their missions to feed those struck by disaster and to create more resilient food networks around the world. These donations are a direct result from the Take Back 2020 campaign earlier this year.
In April, Sigora's campaign launched across 14 states to bring back some security when everything else seemed out of control. They offered a discount to go solar and promised to donate a portion of each sale to local communities affected by COVID-19. Despite the unknown challenges which lay ahead, Sigora didn't want to lose their momentum of empowering people and communities to take control of their energy and start saving money, according to Logan Landry, Sigora Solar's CEO
"When the pandemic started, we made a promise to help people," said Landry. "We knew this year was going to be extraordinarily tough for many and we had a responsibility to help, if we could. New Hill Development and World Central Kitchen are incredible organizations helping in one of the most fundamentally necessary ways possible, making sure the most vulnerable among us still have enough to eat."
The money donated to New Hill Development will be distributed in partnership with Community Kitchen, formerly Frontline Foods Charlottesville, a program that provides nourishing food to those in need by purchasing meals from local restaurants. These efforts will feed 650 people within the City of Charlottesville and Albemarle County.
"While the pandemic has affected all of us, it's hit communities of color disproportionately harder. This becomes undoubtedly clear when considering heightened levels of food insecurity. Supplying meals is a small but essential way we can support one another during a difficult time," said John Kluge, city-lead for Community Kitchen.
World Central Kitchen acted early when the pandemic struck and started "Restaurants for the People" which has worked closely with community and government leaders and organizations around the country to identify local food and nutrition needs, brought in small, independent restaurants into their network, and have helped bring in revenue for restaurants to cover bills and rehire employees.
These programs seemed to be the perfect fit for Sigora to give back to the communities they serve, according to Tad Luttrell, Chief Sales and Marketing Officer for Sigora Solar. The Take Back 2020 campaign was developed to help people transition their power to solar and start saving money on their electric bills. A portion of each of those sales contributed directly to the donations being made to New Hill Development and World Central Kitchen.
"We knew our team would do whatever it took to drive through the challenges posed by the pandemic, but there were also those who were going to be left hurting through no fault of their own," said Luttrell. "We are fortunate enough to sell a product that saves people money and pays for itself which has helped us continue to grow in 2020. Partnering with these amazing organizations allows us to give back."
Sigora and World Central Kitchen seem to be kindred organizations with the work they both began in Haiti following the catastrophic earthquake in 2010. Sigora Solar brings much needed infrastructure support to underserved communities and families in Haiti through its One-For-OneTM program, which creates a value-add for domestic customers by "paying it forward." For every domestic household or commercial customer that goes solar, a family or essential service provider in Haiti gains access to clean, affordable, 24/7 electricity through their partnership with Sigora Haiti & HADPRE. In 2020, Sigora's efforts in Haiti also included a donated rooftop solar system for St. Louis du Nord Hospital, battery system installation for the only breast cancer clinic in Haiti, three Tesla Powerpack utility-scale batteries added to the grid, and installed an additional 200+ new streetlights.
World Central Kitchen started a culinary school in Haiti to train aspiring chefs and prepare them for jobs in the growing hospitality and tourism industry. The school graduates over 40 students per year and the students are placed into internships with high-end restaurants and hotels.
About Sigora Solar:
Sigora Solar is the largest residential and commercial solar company in Virginia, with more than 40% of the Commonwealth's installed distributed generation capacity. Sigora's unique Produce+ReduceTM package provides solar and energy efficiency services paired with a PEARL certification to monetize those upgrades. Sigora's One-For-OneTM program expands energy equity, providing households in Haiti access to electricity through Sigora Haiti. Sigora now operates in 13 states, establishing itself as a top 25 residential solar company in the Country. Sigora's mission is to empower people and communities to take charge of their energy and build a more sustainable and equitable energy future.
About New Hill Development:
New Hill is a non-profit Community Development Corporation established in 2018. Charlottesville is undergoing significant growth and development and it is imperative that the Black community be actively participating in this process. We want to help rebuild our appropriated assets, and celebrate our history and culture. We believe that New Hill, guided by the needs stated by the Black Community, can begin to restore what was lost through urban renewal and years of marginalization.
New Hill Development Corporation is an African-American led social enterprise established to build financial resilience, economic opportunity and affordable housing in the Greater Charlottesville Black community. We envision a resilient Black community thriving within a more diverse, inclusive, and equitable community.
Yolunda Harrell - e: yharrell@newhilldev.com p: 434-465-9164
John Kluge - e: jkluge@refugeeinvestments.org p: 917-916-0422
About World Central Kitchen:
World Central Kitchen (WCK) uses the power of food to heal communities and strengthen economies in times of crisis and beyond. World Central Kitchen is a team of food first responders, mobilizing with the urgency of now to get meals to those who need them most. During the COVID-19 pandemic, we've activated thousands of restaurants and kitchens to feed marginalized and vulnerable communities and our brave medical professionals on the front lines. WCK's Restaurants for the People program attacks the growing hunger and economic crises on two fronts by paying local restaurants to cook fresh meals for their neighbors in need—at the same time getting food to hungry people and keeping restaurants and their teams open and working. We know that a nourishing meal in a time of crisis is so much more than a plate of food—it's hope, it's dignity, it's a sign that someone cares about you and that you are not alone. When we work urgently to get fresh meals to people in need, we're sharing so much more than a meal, and that's why we do what we do. Learn more here.