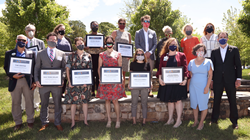 I am honored to represent Sigora Solar in this ambitious climate initiative ... It enables passionate companies like ours to prioritize the health of the environment and lift up the economy on a path toward a cleaner future. -Sarah Nerette, Director of Energy Efficiency and Sustainability
CHARLOTTESVILLE, Va. (PRWEB) May 24, 2021
Sigora Solar (http://sigorasolar.com), a top 25 US solar company and the largest residential and commercial solar company in Virginia, joined Community Climate Collaborative (C3) and 15 fellow business leaders in the community to launch a Green Business Alliance (GBA) in a recent press conference with Governor Northam. The GBA, consisting of more than 2,300 members of the Central Virginia business community, has established a significant goal to reduce emissions by 45% over the next 4 years.
Virginia recently mandated a 100% clean energy goal by 2045 through the Clean Economy Act (VCEA), a piece of legislation that Sigora Solar championed in collaboration with other industry leaders. The VCEA and the GBA both align with a newly established national goal for the US to create a "carbon free" power sector by 2050 and to reach net zero emissions by 2050. Sigora Solar's Energy Efficiency & Sustainability Director Sarah Nerette leads the company's sustainability and climate initiatives and supports the community and the industry as a whole in those efforts.
"I am honored to represent Sigora Solar in this ambitious climate initiative," Ms. Nerette said. "As leaders in our community dedicated to reducing emissions through increased renewable energy and energy efficiency adoption, the Green Business Alliance was a natural fit for Sigora. It enables passionate companies like ours to prioritize the health of the environment and lift up the economy on a path toward a cleaner future."
On federal, state and local levels, these climate targets enable meaningful and diverse job creation in an industry that continues to create hundreds of thousands of well-paid career opportunities. Ms. Nerette, a Haitian-born Civil Engineer, leads the Sustainability Committee at Sigora Solar and specializes in Sustainable Development and Green Building, having achieved LEED Green Associate accreditation. She is also a member of the American Association of Blacks in Energy (AABE), a national association of energy professionals ensuring African Americans and other minorities are involved in the development of energy policy regulations.
Sigora's business model advances both residential and commercial solar while tracking with national job trends, which currently have residential installation and construction accounting for 55% of 67% of all jobs within the industry. The 2020 National Solar Job Census, published by SEIA® this month, reported that women now represent 30% of a previously male-dominated workforce as well as a significant improvement in job creation for minority demographic groups. Over that 5-year period since 2015 the study shows a 39% increase for women, a 92% increase for Hispanic or Latino workers, 18% increase for Asian American and Pacific Islander workers, and a 73% increase for Black or African American workers.
Sigora Solar, founded in 2011, takes pride in its workplace diversity and was named Solar Power World's "Most Forward-Thinking Company" in 2019. Currently, Sigora's executive leadership is at gender parity and the company is composed of approximately 35% women and 25% non-whites. Sigora, a national leader in the clean energy transition, is looking for new members to join the Team. Qualified applicants are encouraged to apply here.
About Sigora Solar
Sigora Solar has consistently appeared on Inc.'s list of fastest growing companies in the U.S., operating in 14 states, and is Virginia's largest residential and commercial solar installer, according to Solar Power World. In 2019, Sigora was named Solar Power World's "Most Forward-Thinking Company," highlighting an innovative and equity-inspired business model that incorporates solar and energy efficiency services paired with a Pearl Certification™ and Sigora's One For One™ program which provides free connections to clean, reliable electricity for families in Haiti – many of whom have never had access to electricity before.
Sigora's mission is to empower people and communities through energy and technology services enabling a more sustainable and equitable energy economy. For more information visit sigorasolar.com.