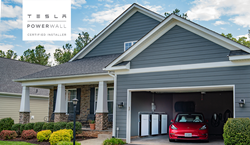 "Sigora never stops working and never stops innovating. Becoming a Certified Tesla Powerwall Installer is another fulfillment of our constant commitment to innovation and empowerment." - Logan Landry, Sigora Solar CEO
CHARLOTTESVILLE, Va. (PRWEB) July 08, 2020
As the nation's Most Forward Thinking solar company, Sigora Solar continues to look for innovative ways to empower its customers. Their latest product offering is the Tesla Powerwall. This expansion of their Produce+Reduce package provides Sigora customers the ability to install a solar power system, receive complimentary energy efficiency upgrades, and become 100% energy independent with the Tesla Powerwall.
"Sigora never stops working and never stops innovating. We continue to look for new ways to empower our customers to take control of their energy, lower their electric bills, and make a positive impact on the world around them," said Sigora Solar CEO Logan Landry. "Becoming a Certified Tesla Powerwall Installer is another fulfillment of our constant commitment to innovation and empowerment."
Sigora's strong Powerwall sales are partly due to the advantages battery backups offer over traditional generator systems. The Powerwall has been a much better option than a generator for reliability, affordability, and it can be used every day, according to Sigora customer Barbara Harvill. "A generator, that's basically a sunk cost, it's out there doing nothing 98% of the time. Our Tesla Powerwalls are always being used and have all these added benefits," said Harvill.
The Tesla Powerwalls also provide complete control of customers' power usage through the Tesla App. The App has given Powerwall owner, Jeremy Visnesky, peace of mind in preparing for the unexpected.
"You can't put a price on confidence," said Visnesky. "Last year, there was a bad storm that came through and I got this notification on my phone saying, 'Your batteries are going into Stormwatch.' All this is automatic. You don't have to think about it. (The neighborhood) had no power for five days. To know I can run almost anything in my house is pretty awesome."
The Tesla Powerwall is a whole-home battery storage system that provides flexibility for customers when it comes to solar usage, grid usage, and power outages or other grid disruptions. Utilizing Tesla's pioneering and industry-leading technology, energy is stored in the battery and controlled via a smartphone application. Customers can use their stored energy during peak usage to lower the electric bill or during an outage. The Powerwalls can be purchased and installed independently, or along with a Sigora solar system.