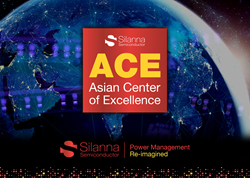 The new Asian Center of Excellence (ACE) will be a great asset for technical customer support by providing an immediate communication turnaround from operating within the same time zone
SAN DIEGO (PRWEB) October 13, 2020
Silanna Semiconductor, the power density leader, today announced the launch of its Asian Center of Excellence (ACE) in the Philippines focused on Asian customers. Silanna Semiconductor addresses the ultimate power management challenges with best-in-class power density and efficiency that delight customers with unprecedented BoM savings.
"At Silanna Semiconductor, we take great pride in our best-in-class technology as well as customer support, sales, marketing, and service organizations. We focus on delivering on design-win driven success and collaborative customer relationships," said Larry Wasylin, Vice President of WW Sales and Marketing, Silanna Semiconductor. "We are extremely excited to announce the launch of the Asian Center of Excellence (ACE). In response to our growing customer base in Asia, we wanted to take a proactive approach to support and initiate outstanding regional customer technical support. We want our customer service to match the exceptional standards seen in our product range and so building a new facility for our expanding Asian market was crucial. We hope our customers find this to be a great addition to our customer technology and design support and take advantage of our new facility".
As part of Silanna Semiconductor's ongoing growth within the Asian market, including the recent appointment of a new Asia distribution partner in EDOM technology, the new Asian Center of Excellence will be an essential source for customer assistance, education, training, and information. With the support of the Philippine government, Silanna Semiconductor anticipates that the ACE will provide job opportunities and promote further investment in the region.
"As Silanna Semiconductor's new distributor in Asia, our customers will benefit from the new facility, which will allow us to provide a closer and higher level of customer support," said Wayne Tseng, Chairman of EDOM Technology. "The new Asian Center of Excellence (ACE) will be a great asset for technical customer support by providing an immediate communication turnaround from operating within the same time zone. The all-around support that Silanna Semiconductor has placed to ensure their Asian customers' satisfaction is highly appreciated."
The Asian Center of Excellence in Pasig City, Philippines has begun its operation on September 1, 2020.
ABOUT SILANNA:
Silanna Semiconductor: The Power Density Leader. Delivering on the ultimate Power Management challenge of best in class density and efficiency performance that delights customers with unprecedented BoM savings. Silanna Semiconductor's DC/DC and AC/DC power converter ICs are driving key innovations in Travel Adapters, Laptop Adapters, Appliance Power, Smart Metering, Computing, Lighting, Industrial Power, and Display Power utilizing the latest digital and analog control and device technology. Silanna Semiconductor is headquartered in San Diego, CA, is a privately held semiconductor company, and has global facilities supporting design and customers with design centers and offices in North America, Europe, Asia, and Australia.
ABOUT EDOM TECHNOLOGY:
More than Distribution, EDOM is Your Best Solutions Partner
Founded in July 1996 and headquartered in Taipei, EDOM Technology is Asia's best distribution and solutions provider. With subsidiaries in China, Singapore, Thailand, Vietnam, India, Malaysia , South Korea and Japan, EDOM provides best-in-class distribution and solutions-based services to vendors, ODMs and OEMs around Asia and the world. EDOM has years of experience serving established markets and anticipating the requirements for leading edge products and applications, including portable and wearable devices, wireline and wireless communications, Internet of Things (IoT), automotive, robotics, medical, industrial control, computers and many other applications. With deep technical experience in opto-electronics, digital, analog and mixed-signal applications, and excellent logistics and operation, EDOM bridges the gap between vendors, customers and partners to provide a full range of services and solutions.
For more information, please visit http://www.edomtech.com
# # #
Silanna PR Contact:
lexi.hatzi@publitek.com
EDOM PR Contact:
Mavis Cheng
TEL: +886(2)2657-8811 ext. 5405
mavisc@edomtech.com or PR@edomtech.com