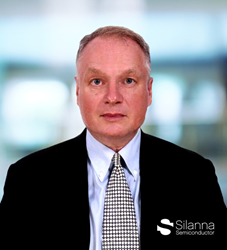 Silanna Semiconductor addresses the ultimate power management challenges with best-in-class power density and efficiency that delight customers with unprecedented BoM savings
SAN DIEGO (PRWEB) July 28, 2020
Silanna Semiconductor, The Power Density Leader, today announced the appointment of Larry Wasylin as Vice President of Worldwide Sales. Silanna Semiconductor addresses the ultimate power management challenges with best-in-class power density and efficiency that delight customers with unprecedented BoM savings.
"Silanna Semiconductor takes great pride in its best-in-class Sales, Marketing and Service organizations, which are focused on design-win driven success and collaborative customer relationships," said Mark Drucker, Chief Executive Officer (CEO), Silanna Semiconductor. "Larry is a proven senior-level executive with extensive customer-facing and cross-functional experience. He brings a valuable combination of sales and business insight to his new role, and is well-equipped to help us grow our business at a rate that outpaces the market."
In his new position, Mr. Wasylin will be based in Taiwan to have close access to Silanna Semiconductor's customer base throughout Asia. Larry will lead the company's Sales, Distribution, Field Applications Engineering and Customer Applications Engineering team in the Philippines. All these functions directly support Silanna Semiconductor's customers worldwide. Armed with a growing portfolio of power semiconductor solutions with best-in-class power efficiency and density, the company expects he and his teams to aggressively grow the business and expand market share. The company is also looking to Mr. Wasylin to increase the total value proposition of Silanna Semiconductor by leveraging the technical expertise of the company's power design tools and Field Application Engineering (FAE) teams, and capitalizing on the expansion of the company's progressive supply chain programs.
"I'm delighted to expand my role with Silanna Semiconductor. Being based in Taipei, Taiwan I feel I am perfectly situated to support our customer growth with the support of our Asian field and applications teams. During my time with Mobiverse I supported Silanna Semiconductor's Asian sales teams, witnessing first-hand the Silanna Semiconductor global management team's determination to solve the toughest power management challenges. Delivering both DC/DC and AC/DC solutions with the highest Power Density and Efficiency while simultaneously delivering the greatest value and reduced BoM costs," said Mr. Wasylin. "The plan is to drive sales and design-win momentum upward by continuing to foster customer-focused design tools and sales support worldwide. Our customers' success is, after all, our success. Being a member of the team with the goal of re-imaging power semiconductor allows us as a start-up the imagination to uniquely respond quicker and innovatively to our customers design challenges."
Mr. Wasylin has more than 20 years of technology sales and sales management, marketing and business development experience in the semiconductor industry. As CEO, of Mobiverse, Larry has worked with various start-ups ramping up their business, by establishing world class sales, application and field engineering teams to win designs with tier one customers. He has also worked with various tier 1 customers throughout Asia as a strategic advisor to expand their various business lines. Previous, to Mobiverse, he served as Worldwide Vice President Sales and Marketing at Sandbridge Technologies where he was instrumental in growing their overall business until it was successfully acquired. In previous roles he served as Vice President Sales and Marketing of a venture funded start up Magnolia Broadband, Raytheon/TelASIC and Sound ID gaining extensive sales and marketing and business development experience throughout Europe and Asia.
About Silanna: Silanna Semiconductor: The Power Density Leader. Delivering on the ultimate Power Management challenge of best in class density and efficiency performance that delights customers with unprecedented BoM savings. Silanna Semiconductor's DC/DC and AC/DC power converter ICs are driving key innovations in Travel Adapters, Laptop Adapters, Appliance Power, Smart Metering, Computing, Lighting, Industrial Power, and Display Power utilizing the latest digital and analog control and device technology. Silanna Semiconductor is headquartered in San Diego, CA, is a privately held semiconductor company, and has global facilities supporting design and customers with design centers and offices in North America, Europe, Asia, and Australia.