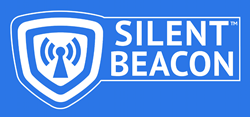 In these uncertain times, it's crucial that everyone has the ability to call for help and alert loved ones in emergency situations. By unlocking our App's full capabilities, we hope to equip the public with an extra safety preparedness tool. -Kenny Kelley, CEO of Silent Beacon
ROCKVILLE, Md. (PRWEB) April 02, 2020
Silent Beacon, the industry-leading provider of safety wearable technology, is waiving its App subscription fees to enhance public access to essential emergency services for the next three months, through June 2020. Users can now download the App from the Apple Store or Google Play for unlimited access to its advanced suite of safety features.
The move comes in response to the heightened stress and anxiety among the public caused by the COVID-19 pandemic sweeping the nation. Silent Beacon aims to alleviate panic over the virus's spread.
"In these uncertain times, it's crucial that everyone has the ability to call for help and alert loved ones in emergency situations," says Silent Beacon CEO Kenny Kelley. "By unlocking our App's full capabilities, we hope to equip the public with an extra safety preparedness tool."
The Silent Beacon App allows you to call any number including 911 while sending multiple people your live GPS location via text, email, and push notifications. Waiving the monthly $1.99 subscription fee unlocks access to the following deluxe safety features within the App:

Store Multiple Emergency Contacts: The Silent Beacon Subscription allows you to program multiple emergency contacts into the App, whether that's 911, other emergency services, family members or friends, even phone numbers overseas.
Customize Emergency Text Messages & Emails: Different emergencies require different responses. Silent Beacon allows you to customize your contact alert messages to fit your specific needs.
Share Your Live Location with the Footsteps Feature: Activating "Footsteps" within the App shares your real-time location with your emergency contacts, allowing them to track where you are in situations when you feel unsafe or want to be found.
Notify Loved Ones Using Nudge: The Nudge feature allows you to notify loved ones that you arrived to your destination safely without the need to call or text them. It sends a snap shot of your location along with your custom text message.
Passcode Protect Alert Deactivation: Users can select a passcode to prevent unwanted alert deactivation, for an added layer of protection.
About Silent Beacon
Silent Beacon, LLC, was founded in 2013 with a vision of providing immediate assistance to those in need by enabling its users to instantly locate family members and loved ones requiring emergency assistance. Its 24/7 Customer Support Center is ready to answer questions, listen to feedback, and help customers get their device and associated App up and running. Visit http://www.silentbeacon.com.