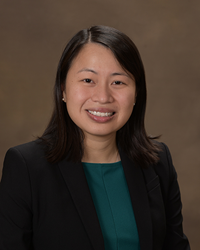 I certainly would not want to find myself against her in a litigation - I'm glad she's on our team
SAN JOSE, Calif. (PRWEB) October 29, 2018
Structure Law Group, LLP is pleased to announce the addition of litigation attorney Quynh-Anh V. Nguyen to its San Jose litigation practice group. Quynh-Anh commits 100% of her practice to business litigation matters. This includes partnership or shareholder disputes, intellectual property conflicts, employment disputes, and breach of contract matters. Quynh-Anh V. Nguyen is a passionate litigator with diverse experience and a strong background in alternative dispute resolution.
Quynh-Anh's litigation practice includes employment and partnership dispute resolution, intellectual property conflicts, mediation, arbitration, reviewing business contracts, and drafting operating and employment agreements. She also handles matters involving breach of contract, creditor and shareholder rights, and membership disputes.
"Quynh-Anh is the real deal. Her love of the fight, intellectual rigor, and direct communication style will all be great additions to the firm. I certainly would not want to find myself against her in a litigation—I'm glad she's on our team," says SLG attorney Ethan Solove.
Before joining Structure Law Group, Quynh-Anh was an associate attorney at Hoover Krepelka, LLP where she grew her litigation practice. Quynh-Anh received her Juris Doctor degree from the University of California, Hastings College of the Law, which she attended on the Dean's Scholarship. While at Hastings, she served as Senior Managing Editor of the Hastings Race & Poverty Law Journal. Quynh-Anh graduated from the University of California, Irvine with a double major in Comparative Literature and Film & Media Studies. While at UCI, she was selected to present at the Undergraduate Conference in Critical Theory hosted by the acclaimed Critical Theory Emphasis Program.
Quynh-Anh speaks English and conversational Vietnamese. In her free time, she enjoys reading high fantasy novels and playing with her dog, Cookie.
Quynh-Anh V. Nguyen can be reached at: qnguyen(at)structurelaw.com or (408) 441-7500.
About Structure Law Group, LLP
Structure Law Group, LLP is a business law firm located in San Jose, California with a national and international presence that provides legal services and counsel to companies of all sizes. SLG is committed to providing an exceptional client experience through innovative and cost-effective legal services and solutions. SLG's practice broadly encompasses all areas of business law including, but not limited to, intellectual property dispute resolution, technology agreements, complex business litigation, transactions, employment law, and construction and real estate matters. SLG's attorneys are a dedicated team of experienced legal professionals who have a solid understanding of companies of all sizes. As San Jose business attorneys in the heart of Silicon Valley, Structure Law Group, LLP understands the importance of reliability, efficiency and integrity. Silicon Valley is home to many startups which have looked to us for counsel as they grow their businesses.
For more information about the firm please go to http://www.structurelaw.com, visit our blog at http://www.sanjosebusinesslawyersblog.com or contact us as shown below:
Krystle Warren
Structure Law Group, LLP
(408) 441-7500
kwarren(at)structurelaw.com